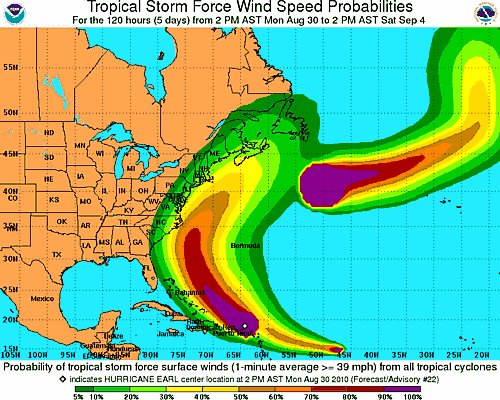 For those who may be wondering what's up with our Hyannis Seminar and Hurricane Earl. We are keeping an eye on things. We do not expect having to cancel this event - quite the contrary, we plan to be hearty quilters and weather it together.
On Saturday morning, Justin and I left La Veta driving east and as of this post we are between Erie, PA, and Buffalo, NY. We will arrive in Hyannis on Tuesday evening.
Please visit this blog to find out if there are any changes to that plan. - Hyannis and Hurricane Earl - here we come! Whoo-hoo!
This just in from Facebook - gotta love it! I'm with you Vicki!
"Hi Ricky - Earl or no Earl, I'm packing my bags this evening and will be heading out tomorrow for the Cape. No hurricane is going to stop me from this event. I'll see you in Hyannis."