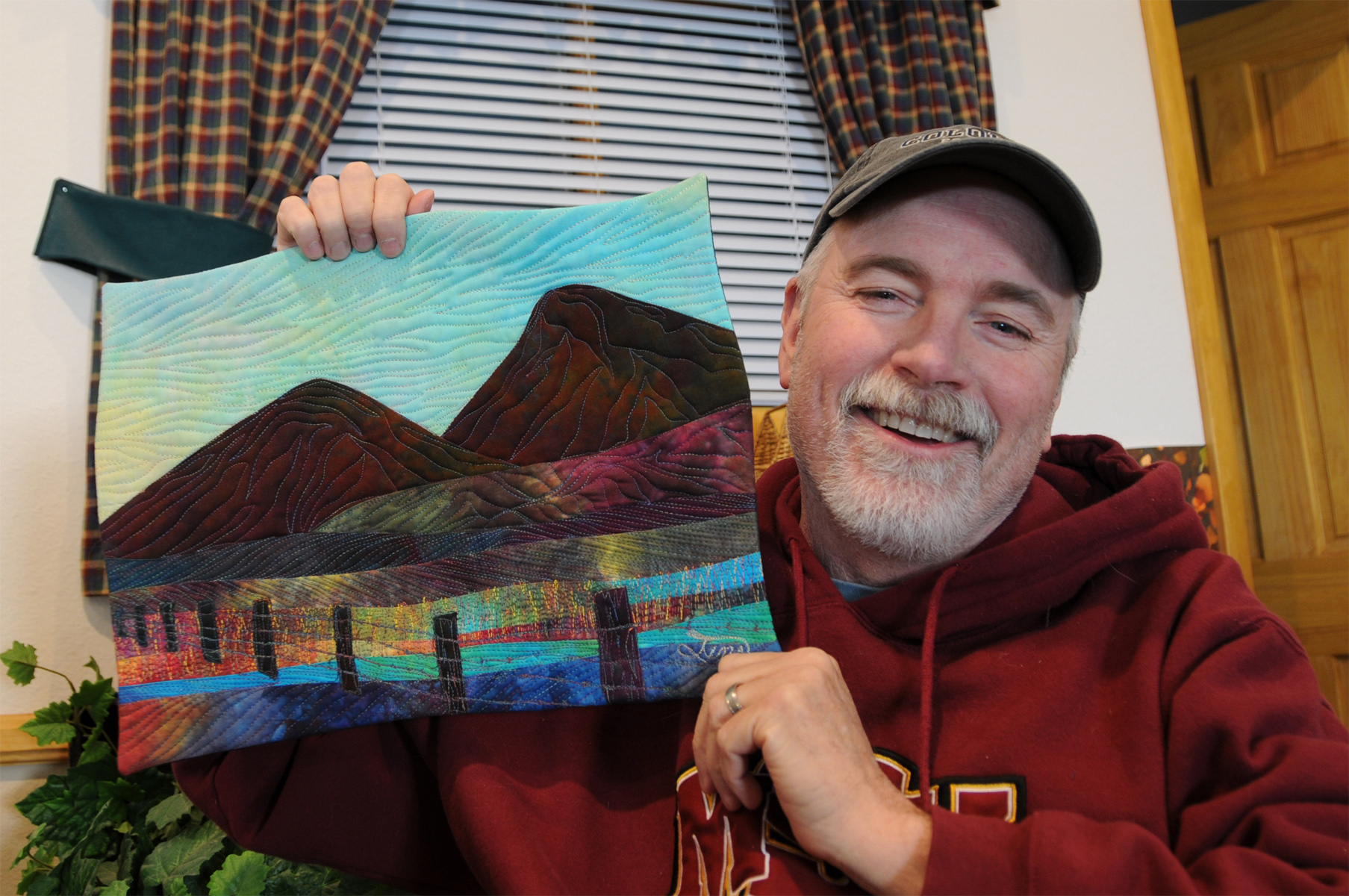 Once in a blue moon I'm able to create a small project to be auctioned off. I have a great affection for the Rocky Mountain Quilt Museum located in Golden, Colorado. Next month they will be holding an annual fund raiser that includes auction items. I made Wahatoya and Fence specifically for that auction. The museum will be taking remote, call-in bids prior to the live auction. This means YOU have a chance to add this quilt to your collection even if you can't attend the museum event.
Wahatoya, the name of our two mountains (also called The Spanish Peaks) means "breasts of the earth". These are the two mountains that greet me each morning from my front door. I made this quilt from hand-dyed fabrics and machine quilted it.
How to Bid
Rocky Mountain Quilt Museum will be taking call-in bids on Ricky's Wahotoya and Fence quilt (12" x 15.5") valued at $1100.
Call-in bidding begins on Monday, March 7 and will continue thru March 10, 2011 during the hours of 10:00 am to 4:00 pm MST. Call-in number is 303-215-9001, please have your credit card information ready for your call-in bid. Please note, having the highest bid at the end of day on Thursday does not guarantee you are the winner.
The auction will continue on Saturday at the RMQM Fabric and Friends event giving attendees a chance to bid on the quilt.
The ending bid on Thursday is the starting bid on Saturday for the live auction. We strongly urge call-in bidders to place their maximum bid when calling in. If you are the highest bidder on Thursday evening and have given RMQM a maximum bid, we will designate an individual to bid on your behalf up to your maximum bid amount at the Fabric and Friends Live Auction. (Maximum bid information will not be shared with other callers.)
Call-in bidders will be asked to provide the following information: Name, address, phone and email address and credit card information. If the winner of Ricky's quilt was a call-in bidder their credit card will be charged the final bid amount. Following payment, quilt may be picked up at RMQM office located at 910 13th Street, Suite 300, Golden, CO 80401 or RMQM will happily ship to any winner (shipping charges apply).
RMQM is thrilled to be able to offer this opportunity to anyone wishing to OWN one of Ricky's wonderful quilts!