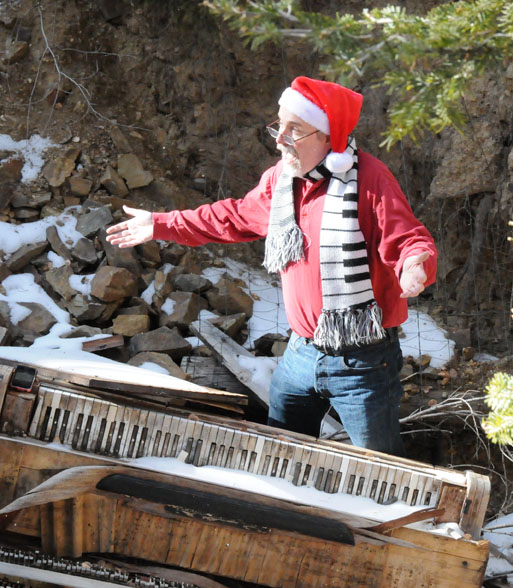 It was the piano that started the whole video idea. Our neighbors have a wonderful property up at 10,000 ft elevation near my home in La Veta, Colorado. Years ago the family hauled an old upright piano up to their mountain cabin. Someone eventually put it outside where years of snow, rain, and cold eventually took their toll.
There are deserted gold mines with deep shafts on their property too!. A few years ago the family realized the open mine shafts were dangerous so they started filling them in with trees etc. The piano was also dumped on top of the pile. In the video, I'm literally standing above the shaft of an abandoned gold mine!
After arranging and recording Jingle Bells the week of December 6, 2010, I started thinking about doing a music video and the old piano called started calling to me. I thought, "How cool could this be - to shoot a video with a decrepit piano while I'm standing over a gold mine?" That was the seed that took me on this journey. The mountain cabin is cozy and decorated with standard mountain-type items such as lots of antlers and a bear rug. It was the perfect setting to bring my new zany arrangement of Jingle Bells to life. Thankfully there was a bit of snow up there to help set the scene.
Factoid #1 - It was about 15º F with a wind chill of 0º F. Brrr. Yes, that's me in my boxer shorts!
Factoid #2 – It took about 2.5 hours to shoot. - Yes we were freezing - and even though it was sunny, you'll notice a few snowflakes coming down. No, they were not fake special effects.
Factoid #3 - The video was shot by Justin Shults with the help of our neighbor Jim Hoobler. Jim's wife, Peggy, took still photos and managed all the outfits and props.
Factoid #4 – The video was completely produced (shot and edited) in less than 12 hours. It was edited by yours truly.
So - that's my story and I'm sticking to it. If you like it, please forward this message. Help me spread a bit of Christmas cheer and be sure to tell everyone it came from your friend, Ricky Tims
A complete list of my holiday videos can be found
here.