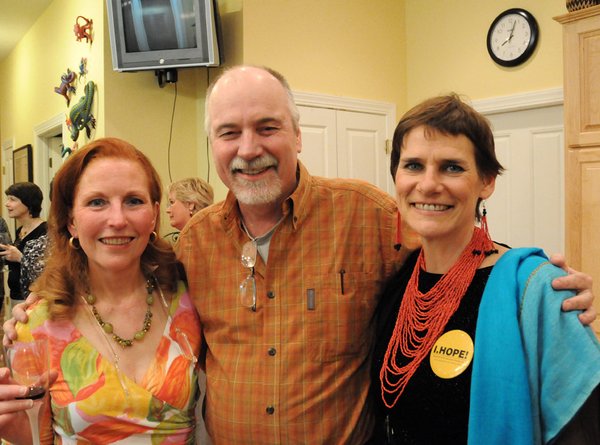 Three fiber artists. Caryl Bryer Fallert, myself, and Hollis Chatelain pause for a snapshot during the AQS show in Paducah, KY. Hollis's exhibition, Imagine Hope, Awareness Through Art opened this week at the National Quilt Museum.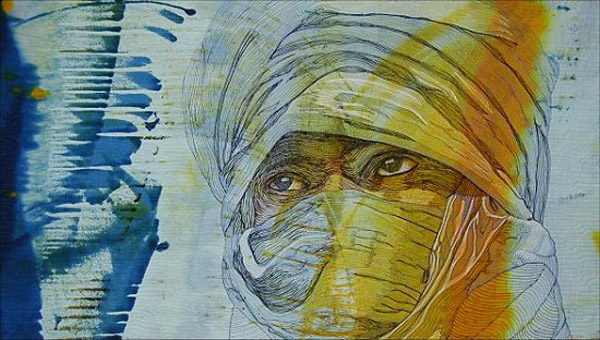 Desert Vision by Hollis Chatelain (20" x 34")
Imagine Hope is an exhibition that strives to touch its viewers, inspiring them to get involved and make a change in the world. The exhibition is comprised of twelve monochromatic textile pieces by artist Hollis Chatelain, each addressing key social and environmental issues facing our world today. The singular color themes and gentle medium invite the viewer into a realm where dreams and reality meet, where the usually harsh images of injustice speak out in soft cotton, gently touching onlookers and imparting stories of individual struggles. 
Twenty black and white thought-provoking photographs from various prominent photographers will be shown alongside the fiber art to bring more exposure to the issues portrayed in the show. The photographs will accompany the pieces in order to allow for a striking realistic contrast to the colorful dream-like quality of the textile art. Learn more.