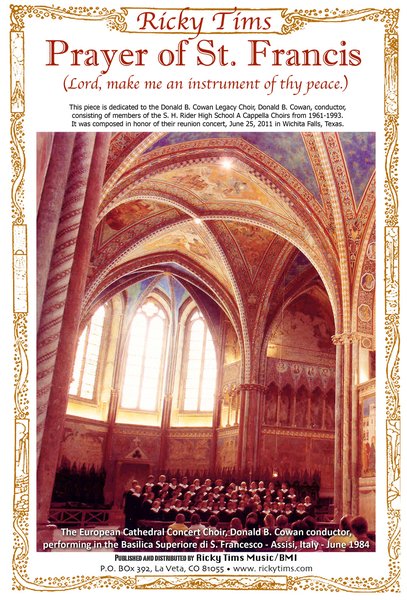 In June of 2011 my high school choir will be having a reunion concert. Donald B. Cowan directed the SH Rider High School A Cappella Choir for 32 years (1961-1993). It was known as "The Greatest Choir Ever". The new "Greatest Choir Ever" is the Donald B. Cowan Legacy Choir. This is a significant event for everyone who has enlisted to participate and rehearsals have already begun. No doubt I'll post about this several times in the next year.
Take a listen to the 1973 choir (my Junior year) singing Tchaikovsky's O Praise Ye God.

I asked Mr C if he would be willing for me to compose a piece of music for the occasion. He was thrilled at the offer and my first thought was to use the text from the Prayer of St. Francis of Assisi - "Lord, make me an instrument of Thy peace." 
The composition is complete and the audio file below is a demo version. There are only four singers doing all the parts. It's beautiful, but rough - it's a demo. I can't wait to hear it performed live for the first time by the Legacy Choir.

O Lord, make me an instrument of Thy peace.
Where there is hate let me sow love,
Where there is injury, pardon,
And when in doubt, give me faith,
In despair, I'll find hope.
In the darkness, let me bring light,
Where there's sadness, let me find joy,
O Divine Master, I seek not to be consoled as to console,
Seek not to be understood, as to understand,
May I seek not to be loved, as to love - let me love.
For it is in giving we receive,
It is in pardoning we are pardoned,
And it is in dying that we are born to eternal life. Amen.
The cover, shown above, features a photo of their 1984 European Cathedral Tour. This photo was taken in Assisi, in the Basilica of St. Francis.