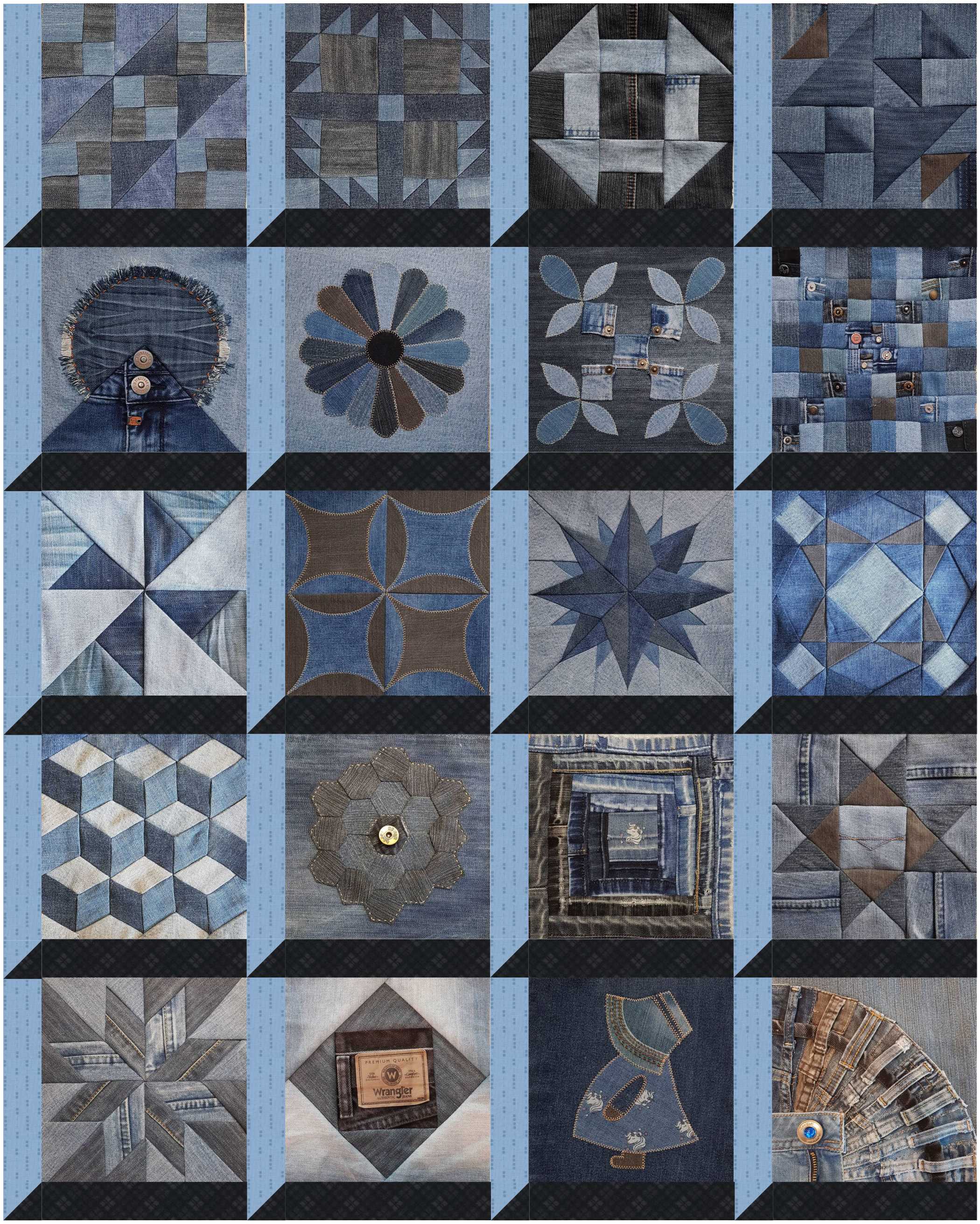 Lizzy Albright Sampler Quilt, Barbara Lange 
Click image for detailed view.
The German Patchwork Guild is doing a sew-along this year that is featuring my Lizzy Albright quilt. It's hard to believe the intricate patchwork created with denim. This week's quilt, from Barbara Lange, features denim, and  employs very creative use of the belt loops, fasteners and other features left over from the blue jeans.
As chair of the Patchwork Guild Germany and an artist of my own right, this project threw me into a deep conflict: on the one hand, I wanted to participate in this guild project, but on the other hand, I have little time to work on my own projects. So if I participate, it must be something special. And I wanted to make a reference to this special year of lockdowns. So I decided I was not going to buy any fabric but make do with what I have at home. A short inventory showed: this will either be extremely colorful (on its way to ugly colorful) - I didn't want that, or extremely monotonous - I didn't want that either. Then an old pair of jeans caught my eye. I have enough of those. That will work...
The thing about the weight  and the thick seam allowances will be a challenge, but I enjoy using the individual parts of the jeans in traditional creative ways so much that I'm happy to overlook those drawbacks. In some blocks I encorporated unraveled hems from the pant legs, in others a pocket opening (in the hat brim of Sunbonnet Sue), a zipper (in Moon over the Mountain), belt loops, rivets and original topstitching of the pant legs. In most blocks, however, I use the denim simply as fabric, without incorporating any special details. The quilt draws its energy from the special blocks. And in order to keep them to be special, they also have to be exceptions rather than the rule. But even without using pants elements, the used denim offers a variety of ways to play with colors and textures. I feel like this project has opened up a whole new set of doors for me. I'm curious to see where this newly discovered path will take me.
This is truly incredible, Barbara! Thanks for sharing your progress with us.
If you would like to make the Lizzy Albright quilt, I have the pattern book for those wanting to use your own fabrics - but also the Lizzy Albright quilt fabric kit which includes the pattern book.
Read here about Silke VonHoffman's quilt featured recently.
Here is the quilt by Baerbl Vollertsen that was previously featured, and another quilt by Claudia Itzwerth.