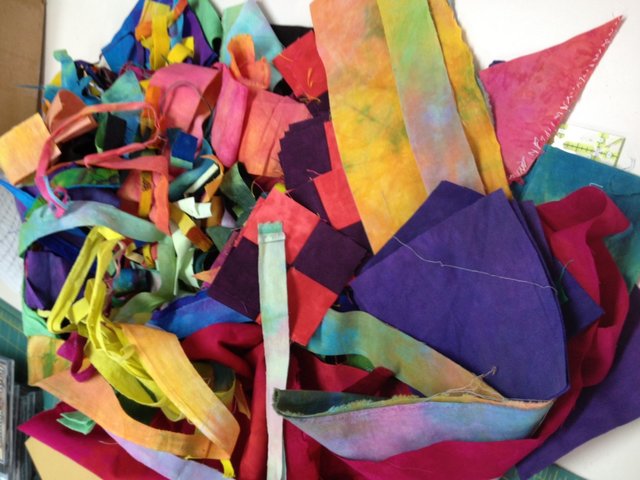 COMMENTS ARE CLOSED _ WINNER OF SCRAPS IS POSTED HERE.

Success!!! I've finished quilting Deadwood! It's my first longarm quilted project. It is currently enjoying a bath, after which I'll block it and prepare to bind it. I'll post a photo of the finished quilt very soon.

In the meantime, it was time to clean the studio. I had been working on the Streak of Lightning quilt as well as the Deadwood quilt an so the bits and pieces laying around the new studio were getting out of control. 

I know how some of you are, my trash is your treasure. Here is a photo of the bits and pieces of fabrics I have collected from the trash that were used in the making of the Streak of Lightning quilt. If you want theses scraps just add a comment and tell me what you will do to turn my trash into your treasure. There are a LOT of little pieces, and some midsize pieces. If you are selected I'll hold you to your answer in a follow up future blog. I'll send this bunch to you free of charge (USA only, seriously, they came out of the trash). Comments are moderated so be patient. I will post your comment when time permits. I'll choose from the replies on Tuesday, August 22, 2012. 

I get to pick up 20 lbs of Western Slope peaches today. Yum. Anyone want peach cobbler? And, I'm heading out to Autumn Rock to enjoy a relaxing afternoon looking for bears! I'm just saying'....