Last night I finished putting up all the patches on my design wall for the Streak of Lightning quilt. I believe that a design wall is one of the most important things in a quilter's studio. When I teach a class, I assign it as homework for any quilter who does not have one. I realize that the wall takes space. If that's a problem for you I will reply with, "where there's a will, there's a way!" The wall can be portable or permanent. The best design choices and quilt "conversations" happen sitting in a chair, looking at the design wall, and evaluating your desicions before proceeding.

Naturally, as this quilt emergedl I had to make specific fabric choices - especially for the zig-zag streaks running vertically between the nine-patches. My initial thoughts were to make a few of them very bright so they would stand out. As the quilt grew on the design wall (from left to right) I began second guessing some of those choices. However, rather than trying to fix anything at the moment, my tried and true advice is to just keep moving forward - keep evaluating - and since nothing is sewn (except the nine-patch units) I can move, rearrange or replace anything. I didn't want to stop and fix anything until I saw the full quilt on the design wall. In this case, if I had stopped my progress to redo a streak, I would still be uncertain and probably slow the progress of getting the overall design on the wall.

Last night when all the patches were on the wall I sat and studied my progress. There were three places that bothered me, and they were the same three sections that had bothered me over the past few days. Here is what the quilt looked like before I went to bed.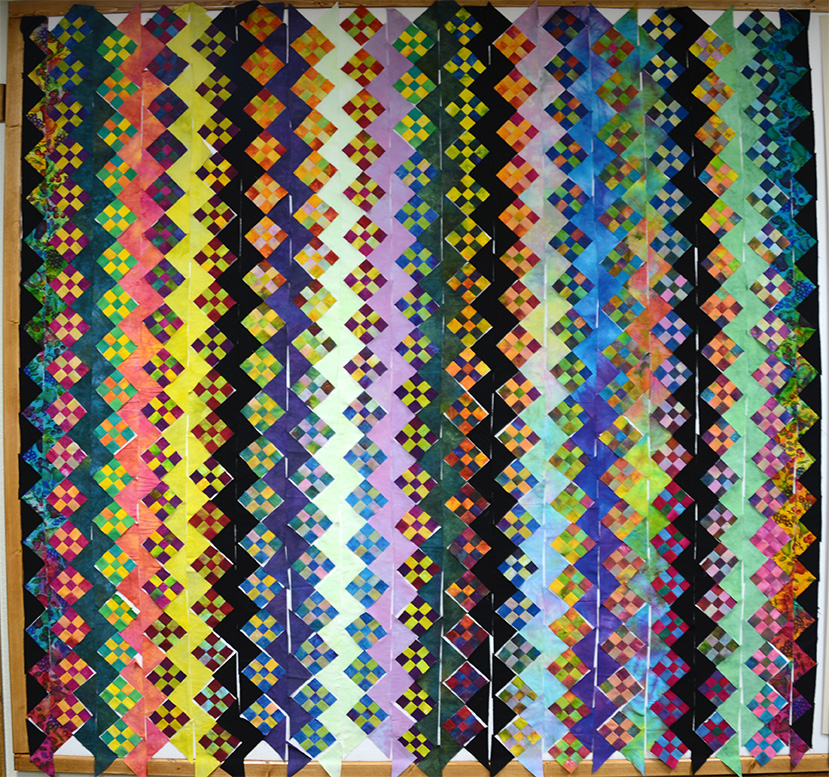 The three streaks that seemed out of place to me are the orange/coral, the bright yellow, and the bright mint green. I don't dislike those streaks and I could have left them in. I really liked the entire right side of the quilt. The thing I liked best was the use of my Caveman Pastel (I call it my Miracle Fabric). It is the seemingly iridescent streak just to the right of the second black streak. It is not a fabric that folks gravitate to, but for me it creates the miracle of movement in light areas. We all know that we need 'lights' even though they are not fun to purchase.

So, this morning I replaced the coral, yellow, and mint green streaks with some miracle fabric and another multi-color. Compare the two and I think you'll agree that they both look good, but the second version (shown below) is more cohesive across the design.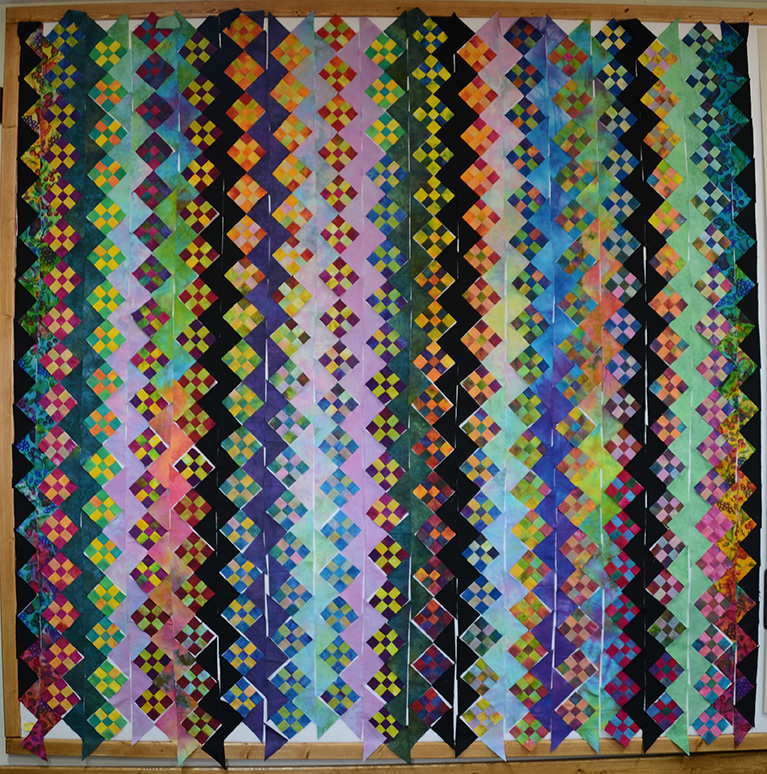 Related blog to this post - HERE.

Unrelated Trivia:
Yesterday I worked on this quilt about 12 hours.
I had a glass of milk this morning for breakfast
I watched a lot of The Universe on History 2 yesterday. This morning it's been Cowboys and Outlaws (Tom Horn) on H2 
Today's To-dos: Edit Gammill and Bernina videos. Work on this quilt. My threads arrived - so maybe more longarm quiltling - whoo-hoo!

All this and more.... I'm just sayin'...