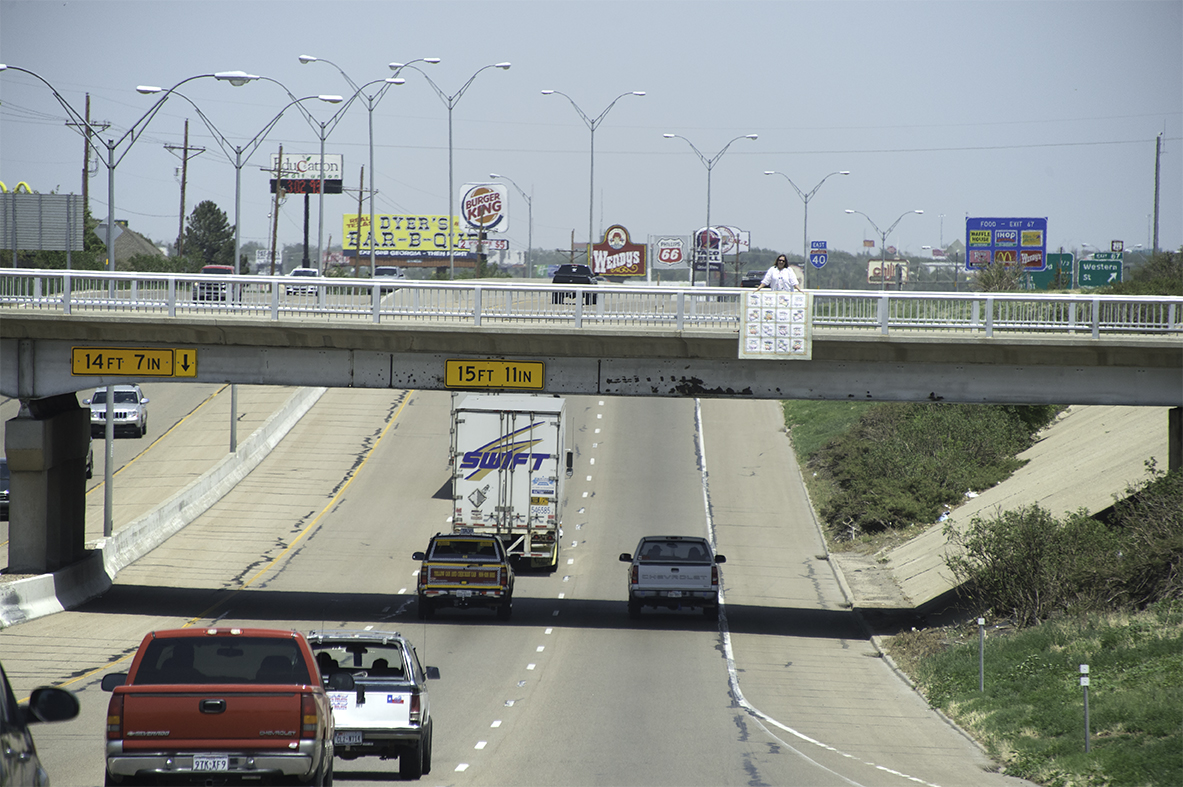 Successful Drive-by Quilting #24 goes to Kathyl Jogerst. Kathyl is the first person to get two drive-by quiltings! And they were not in the same town. We were on our Route 66 tour, and I had just finished getting being part of the Cadillac Ranch painted car attraction. I got painted too! After the drive-by, Kathy managed to make it to Quilted Bliss, the quilt shop where our group dropped a few $$.
Kathyl says:

I saw on Facebook that Ricky and his Route 66 tour group were going to be coming through Amarillo.  Although I live in Coralville, Iowa, I was in Amarillo for a few weeks assisting my mother who was recovering from a broken pelvis after a fall. I thought it would be fun (and a break in my routine) to participate in another drive-by. Mother and I scouted out a great spot, though she was a bit perplexed by it all ;-) and I contacted Ricky to see if the timing would work. So after a few messages and phone calls.......I was standing on the overpass and waving a quilt as the bus driver honked and flashed the headlights! Success!! I was in such a hurry to get to the over pass in time that I ignored the beeps my car was giving me as I closed the doors. I'm certainly glad Amarillo is flat because in my haste and excitement, I had neglected to put my car in "park"!  So that's what those beeps were!!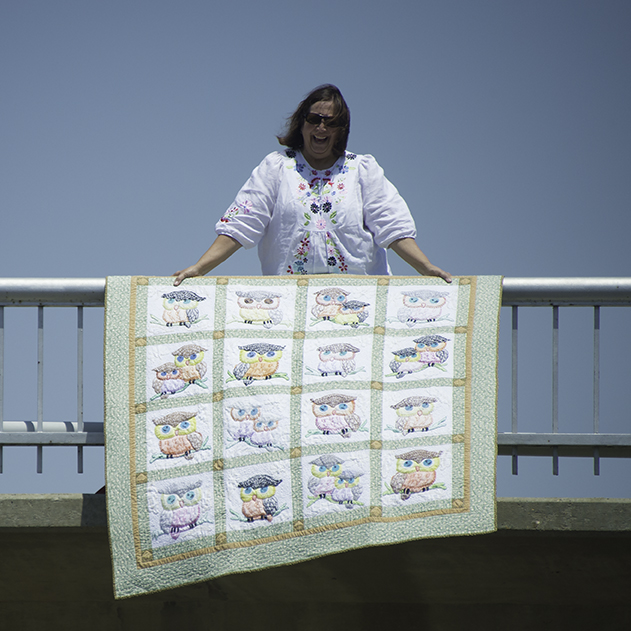 About the quilt:

The quilt has an interesting back story.  My mother was an avid garage saler and collects owls (if I told you how many, we would have the producers of "Hoarders" calling.) She found this poor owl quilt at a garage sale and brought it home. She spent an entire winter taking the blocks out of the setting and picking out the quilting (I use that term loosely.) The blocks are a very cute and nicely done embroidery with crayon? or perhaps a fabric paint pen to fill in the colors. However the poor woman either had no idea of how to sew or had a machine that needed to be thrown in the nearest dumpster.
None of the blocks were the same size, her machine stitches chewed holes in the fabric, and she made tubes for the sashing and then stuffed those with fiberfill! (I so wish I had a picture of the quilt before my mother tore it apart.)  She then sent ME the blocks....hint hint. Out of 24 blocks, I found 16 that could be trimmed to a decent size to put together. The owls are machine trapunto and I did a satin stitch around the leaf designs she had "quilted" in the background.  The satin stitch covered many holes. I gave the quilt back to my mother for Christmas one year and she has probably shown it to everyone who has stepped over her threshold since then. She even entered it in a local show, I suspect to show it off to even more people!