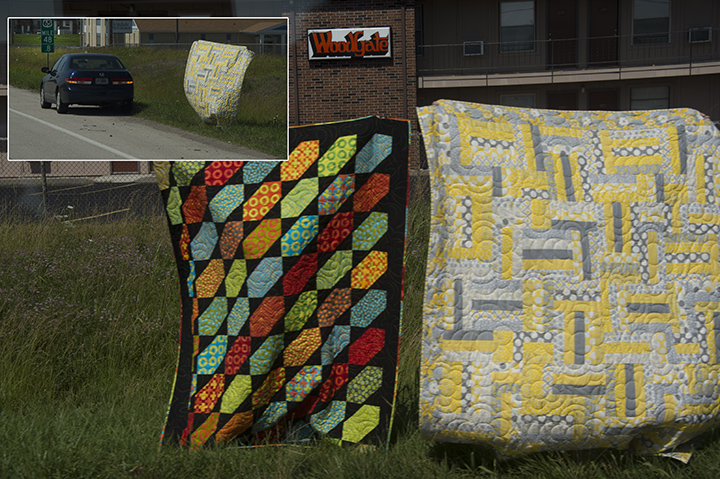 This drive-by resulted during my Route 66 trip on a bus filled with quilters and quilt enthusiasts. It was our first drive-by quilting on a bus where an entire group could witness it. When I got connected to Holly Fletcher, we were already close - two hours out! It is challenging to make this work so two hours is not as long of a lead time as you might think. The good thing is that we had turned off of the interstate and it made it easier for her to get on the shoulder of the road rather than on an overpass. They represent Merrily We Quilt Along quilt shop in Springfield, MO. Yay gang!
Holly says:
We saw that Ricky was doing a Route 66 tour and heard Branson, MO was on his route. We got connected with him only a couple of hours prior to him driving by our quilting/BERNINA shop, Merrily We Quilt Along, in Springfield, MO! After making arrangements with "where" we could hold up quilts, we hastily took down two quilts from the wall and ran out the shop door!  We drove to a spot on 65 HWY and got out of the car, risking life and limb!!  I (Holly) was extremely terrified and thought we might die!  Ricky called and said, "Two minutes!" Micky was almost blown off the hill when she held her quilt up like a sail! 
 
When we saw a HUGE tour bus coming down the road, we knew it had to be Ricky's bus!  The bus only slowed a tiny bit but gave a friendly toot! It was so much FUN and an experience neither one of us will forgot anytime soon!!!
 
I recommend everyone have fun with Ricky on his travels to catch the next "Drive By Quilting" experience!
 
About the Quilts:
Holly was holding the black quilt with bright colors, called "CrossWise".  It measures 63"x79" and you can purchase the kit for $99 at Merrily
We Quilt Along.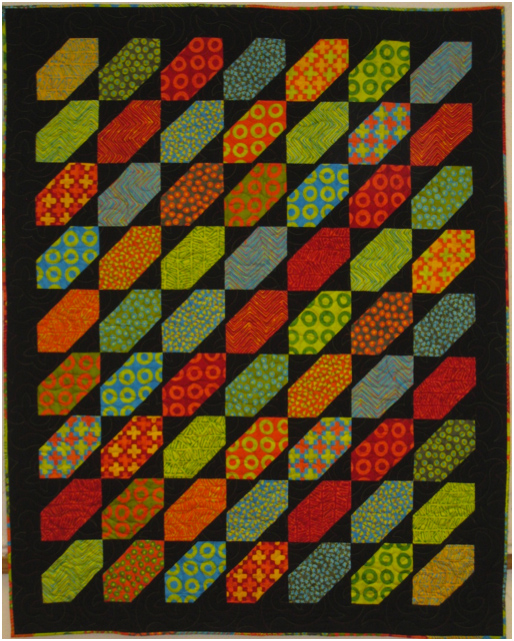 Micky was holding the yellow and grey quilt called "Gray Matters".  It measures 71" x 86" and you can purchase the kit for $85 at Merrily We Quilt Along.