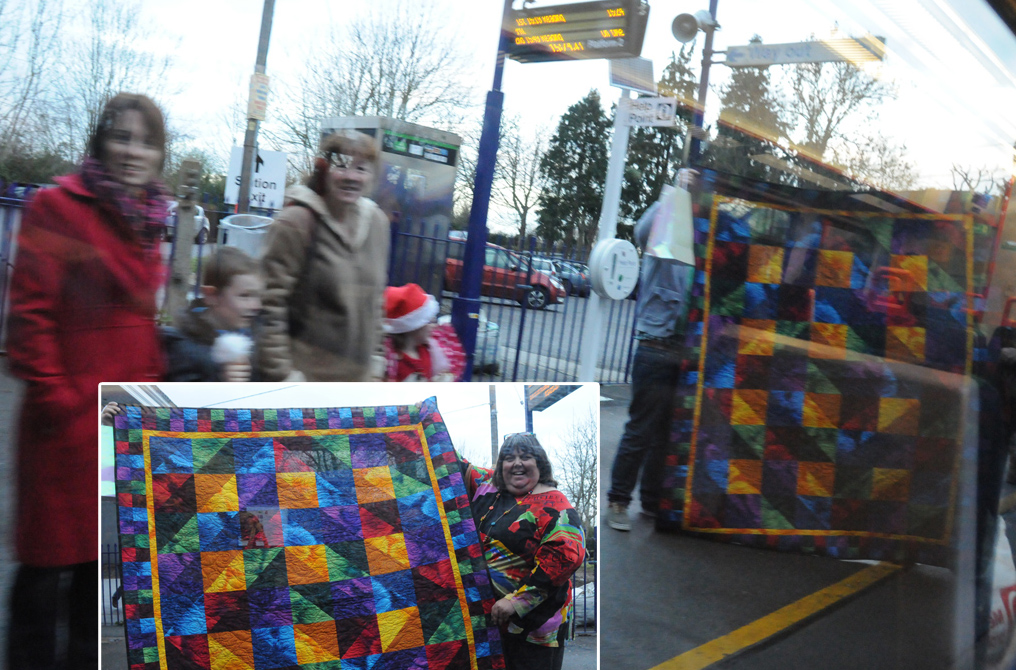 Paula Doyle managed to make it to Mortimer station during our journey from Salisbury to Oxford on December 22, 2011. We knew we had to watch for her on the platform. I saw Paula and her quilt come into sight and started clicking away. We passed right by her. When the train stopped I ran back to the previous coach so I could say hi through the window before the train pulled away.

Paula says:
It was great to see you through the train window at Mortimer Station on the 22nd! I've always been envious of the "Drive-by" quiltings you do in the States. It was great to get to participate in the event on this side of the pond! We got some weird looks from the other people on the platform boarding the train – it was such fun to set them wondering about what was going on.

About the quilt:
The quilt I brought along is called Big Triangles. It was pieced by me, and quilted on a longarm machine by my good friend Isabel Hall of Compton Quilting Services. It is a copy of a quilt I made for my Dad after my Mom passed away and he went to sleeping in a single bed in a new apartment. I picked the colors for the quilt from a couple of  jute-and-wool wall hangings he had from Chile, where he and my Mom had lived as Methodist missionary teachers for many years. The object of making the first quilt was to make something easy and quick, but I soon became intrigued with the way the colors reacted with each other, and with the secondary patterns that emerged from these simple blocks. It is a favorite "quiltathon" option for my quilt group, Thameside Quilters.