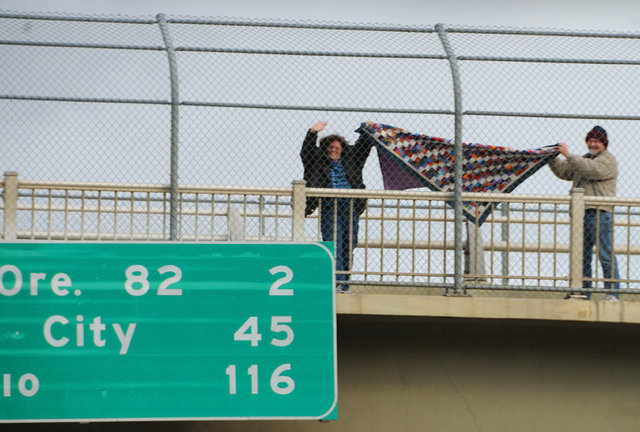 This was a tough one. Whew! ... but we did it!

Karen Hopkins of La Grande, Oregon thought it would be a piece of cake, but the drive-bys are NEVER easy to pull off. In this case, we had to navigate down a mountain pass just before coming into the town. There was no cell phone signal so we were not able to make the call until we were dangerously close to the pre-determined overpass. Justin was able to slow a bit, but being on the interstate, there's no stopping. We actually saw Karen squealing to a stop, jumping over the rails, and within seconds we were under and gone. Congratulations Karen!! You did it even though it sure was a close call!

Karen says:


When remembering the Drive-By Quilting story I read on a website, I thought, "Oh that sounds like so much fun, and ...so humbling! " Being a quilter whose vision is less than good, and being a quilter who is semi newish to the craft, I thought I could never, ever in my wildest dreams, show my quilt to the world-famous " BLACK HATTED" Ricky Tims!!! Nope, not gonna happen on my quilt watch... or so I thought.

Then adrenaline set in, and I thought, "Why not show off my quilts?" I decided to hang two from the overpass located about 4 minutes drive from my home, I set about trying to convince myself that Ricky wouldn't see the mistakes, so I might as well do it. The wind was blowing as I whipped myself over the guard rail lickety split, and stood waving like a mad woman - and proudly, yet most humbly, sharing my quilt with Ricky and Justin. They were probably thinking, "Only a crazed lady from La Grande, Oregon would go to that extreme in order to have a big smile plastered on her face." But that is exactly what this lady did.

Ricky phoned me at home and I had high tailed it to the location. I so was hoping and praying I wasn't gonna be a Drive-by Misfire. No way, after all that hard work to convince myself that Ricky would truly appreciate another Drive-by Quilting traveling down I-84 here in eastern Oregon. In the rush, I was only able to show one quilt. We made it - barely!

Did that experience change my life? Oh how it did! Knowing now, that even in the blowing, chilly air over that overpass this afternoon, my quilting esteem will be raised to the next level of accomplishment as I want to tackle Ricky's Convergence quilt technique. I want to create something as awesome as I can knowing that it won't matter if it is crooked, or imperfect, because to me, perfection comes from trying. Today, that was me. I tried my best to be proud of the work I created and the quilt I proudly hung over the overpass here in our town.


Thanks so much Ricky, for the affirmation that quilting should be fun. Even if it means jumping over a concrete barrier up to my waist, just so you could take a photo!


About the quilt:


Quilting is a craft that many do not realize is healing. It is a craft that I use as a way to bring encouragement to myself when I struggle with health issues. More importantly, its a way I give encouragement, and blessings to others as they realize how much I care about them when I give them a quilt.

The quilt I was able to show is affectionately named

Twisted Burst of Color

because each little colorful rectangle was sewn to another scrap, randomly picked out of my scrap basket. Twisting this way and that way, it began a journey into the colors that you see. It is one of the first Bonnie Hunter patterns I tried as a new quilter. The creamy tone on tone that runs diagonally was the Hope that kept me sane and kept me from twisting the wrong directions!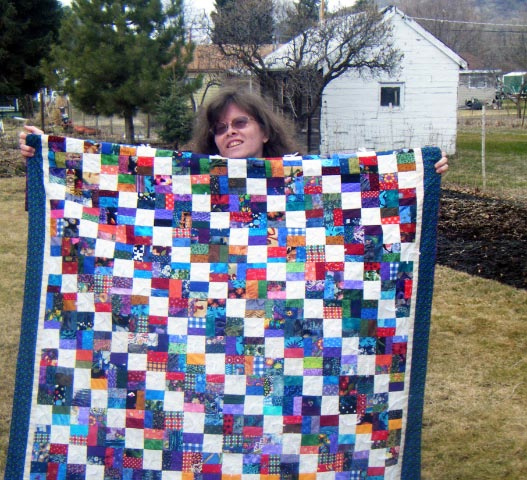 Twisted Burst of Color by Karen Hopkins