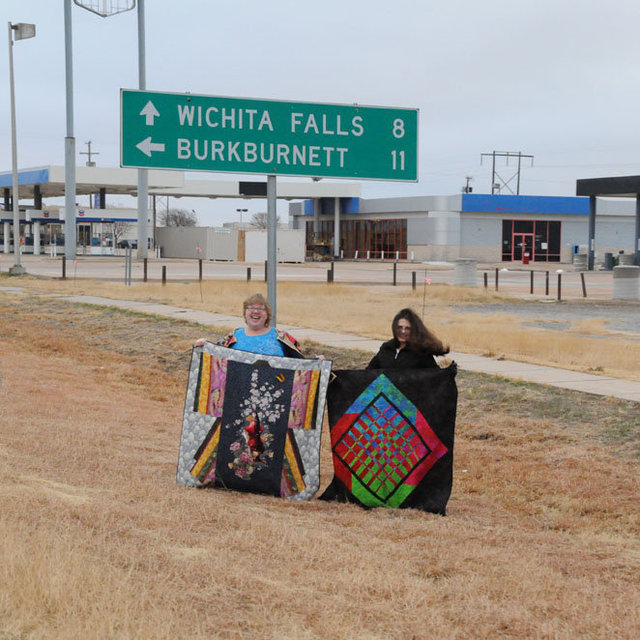 Tina Bowles, left and Kathy Skaggs, right

This drive-by happened en route to Jacksonville, Florida for a super seminar. It is smart for us to stop in Wichita Falls to stay the night with my parents - so we did. Tina Bowles saw my Facebook post about our route and was able to connect with us as we were turning off the main highway within a few miles of my parents house. Tina and her friend Kathy Skaggs live in Burkburnett, TX which is a few miles north of Wichita Falls so they had to make a special effort to make this happen. Congratulations you two!

Tina says:



I was on Facebook & I read the updates & there was Ricky Tims "quilt drive by" coming through Wichita Falls (his hometown). I called my friend Kathy to see if she wanted to do this with me. She said "yes". I was so excited to do this. I sent Ricky messages [on Facebook] & we kept in contact the whole time.


Then I got my 1st "Phone Call from Ricky" that there were in Vernon, Texas. It was freezing & windy (it was well worth it) . I got another phone call (WOO HOO!!) from Ricky updating where they were.?Kathy & I got a few pictures before they got there.. Then we get in the van to get warm. Then he called me (Woo Hoo!) from Iowa Park, Texas and we got out. We had to step on our quilts (to keep them from flying everywhere) the wind was blowing hard.

We recognized the vehicle and saw the flashing lights. They slowed down to take pictures. We Were So EXCITED! Because they were turning, they stopped long enough that I got to take pictures too.


We are looking forward the to next one & many more.

Highly Recommend!! In any weather...

Tina Bowles & Kathy Skaggs

About the Quilts:

The Traveling Geisha by Valentina (Tina) Bowles - Quilted by Sue Hahn

This Quilt was originally made for my mother "Dorothy A. Burczyk - 1940-2008".

The idea was to have her to "travel" (be on loan)among family & friends, until everyone has a chance to see her. Mom past away unexpectedly, so now it will be on permanent display at my home.

She has traveled quite a bit. She has even been to Mexico. I have wonderful quilt bee friends( The Material Girls - Burkburnett/Wichita Falls )

that helped me with her. Thank you my friends.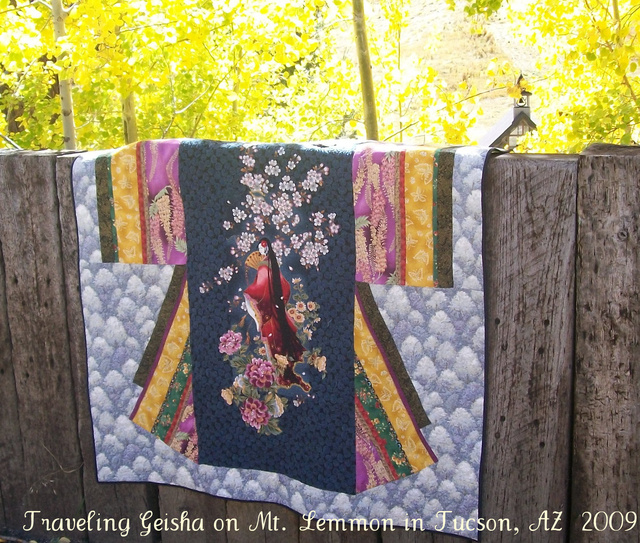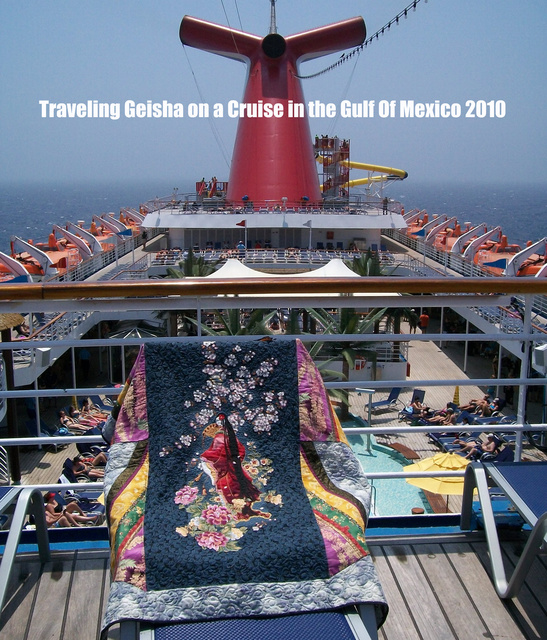 Amazing Chaos by Kathy Skaggs - Quilted by Dailey Rose Quilting - Tina Bowles
This Quilt was inspired by the book "Convergence Quilts" by Ricky Tims. It was amazingly easy, quick, & fun. I look forward to making another project from this book.