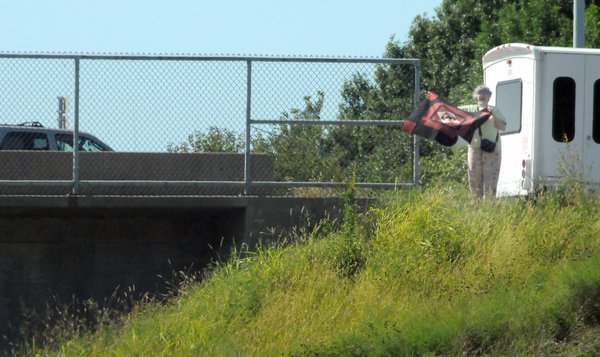 On this breezy day Peggy Bass from Independence, MO has joined the Drive-by Quilting Club. She successfully pulled off her drive-by quilting on the Lee's Summit overpass on I70 by getting there early.
Peggy says:
Organizing a quilt drive by is hard work, thank you Ricky and Justin for making this fun event happen. Ricky and I touched base a couple of times on his way to KC. While waiting for the drive-by two concerned people asked me if I was okay. I guess they thought I was going to jump off the overpass. Heck, I didn't even want to get very close to the edge. Maybe that is why the chain link fence was on the overpass. Let's do it again some day you two.
About the quilt:
The quilt was a guild challenge from MO-KAN long arm guild I belong to here in the Kansas City area. Its name is Foggy Mountain Breakdown, made in January of 2008. It reminds me of Amish designs but it does have some bling. I love the colors!