Photos of the Week - Week 36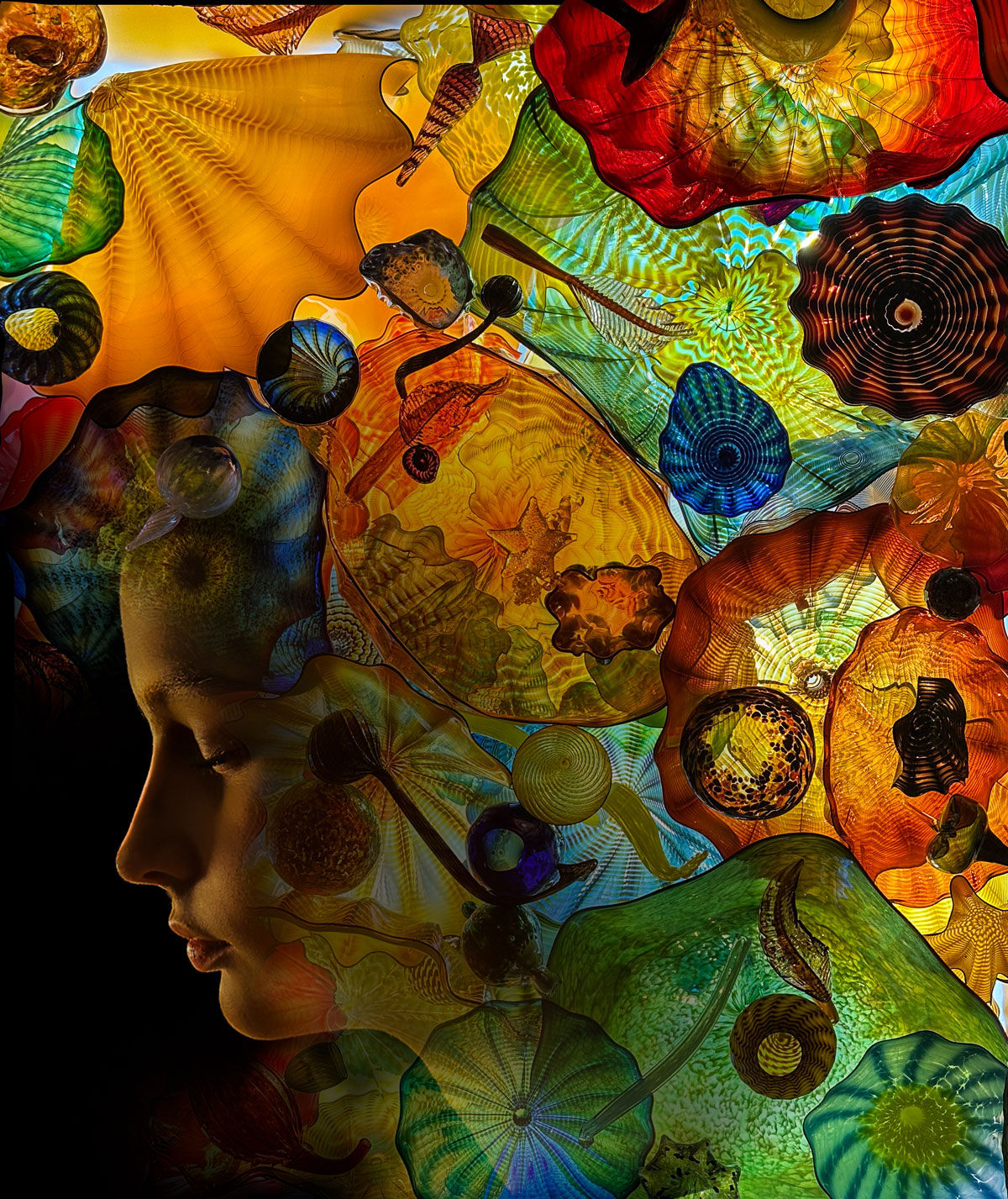 Critique Group Challenge: 
Week 36, Composite Montage
Photo by Bill Arneson
Click to view a larger image 
Bill says: 
The Franklin Park Conservatory, Columbus, OH, has Dale Chihuly glass exhibits within the plant biomes, arranged primarily among the plants and hanging from the ceilings. One of the exhibits is different styles and colors of blown glass that cover a skylight in a biome tunnel. The photo of this exhibit, taken with an iPhone, is busy and that is a look I usually avoid. But in this case I liked the colors and patterns and wanted to work it into the challenge.

This is a composite of two photos: The skylight exhibit and of a young woman's portrait in profile, which was also taken with an iPhone. The light source for the face is a lamp located back and to the left of the face. That approximated the direction of backlighting for the glass, and created shadows that I thought worked in this composite. The photos were blended to try to create the fantasy of a face being subsumed into the exhibit.

52-Week Photo Challenge Class




Week 36 - Radial Symmetry

  

Week 52 Photo Challenge:

Week 36, Radial Symmetry

Photo by Cheryl Franklin

Click to view a larger image.

Cheryl  says:  

 

Smart Phone Photo Challenges




Week 36 - Peeking Eyes

Smart Phone Challenge:

Week 36, Peeking Eyes

Photo by Michelle Pearson

Click to view a larger image.

Michelle says: 

After being the Maldives for the past 5 days Zelda is not impressed I was away again. Whilst trying to talk to her tonight she could barely peek from our under her eyelids….. talk about judgemental
 TRY THE JIGSAW PUZZLE
Choose your own difficulty. Click the 9-patch grid to change number of pieces. Click the circle arrow to make the puzzle pieces rotating instead of stable orientation. Also, there are tips under the "?" on the upper right of the puzzle. If you'd like a full screen version, click the button below. Have fun!