Photos of the Week - Week 25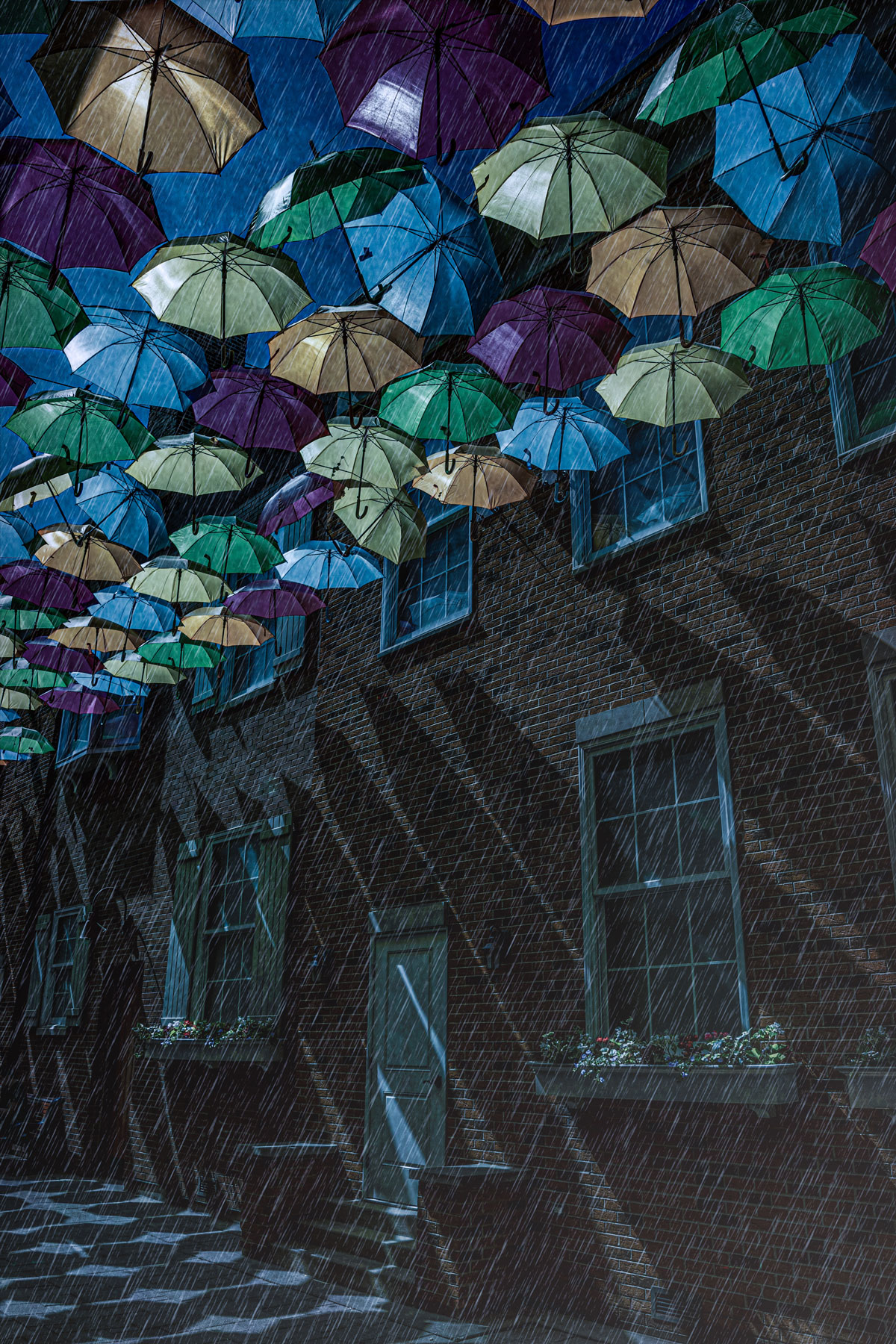 Critique Group Challenge: 
Week 25, Dark And Stormy Night
Photo by Lois Bennett
Click to view a larger image 
Lois says: 
It was a dark and stormy night... when suddenly, to everyone's surprise, a sky full of umbrellas appeared! Where did they come from? Only The Shadow knows... LOL

Here in Illinois we are in the middle of a severe drought. It has not rained here in almost a month and we certainly haven't had any storms. So, what to do for this challenge...
While I was thinking about this week's assignment, I visited the Umbrella Sky exhibit in Elmhurst, IL and took some photos. At this exhibit there are beautiful, colorful umbrellas hung over an entire street. It was fun to see. I really didn't intend to use one of those photos for this week's challenge, but then I started playing around in PS and ended up with this photo. I did some LR edits, added the Topaz Midnight Lake filter, added some rain in PS and probably some other things that I don't remember now.

52-Week Photo Challenge Class




Week 25- 

Embrace Presented

 

 

Week 52 Photo Challenge:

Week 25, Embrace Presented

Photo by Debbie Huewe

Click to view a larger image.

Debbie  says:  

I was hoping to take two photos and combine them to show my husband's before and after losing his hair and beard. His beard started falling out and his hair came out rather suddenly on Monday so he shaved his beard and got his head shaved the same day. This is his new look.

 

Smart Phone Photo Challenges




Week 25 - Use a Mirror

 

Smart Phone Challenge:

Week 25, Use a Mirror

Photo by Margie Clark

Click to view a larger image.

Margie says: 

The underside of an ornamental grass plant plus the sky reflected in a mirror.
Edited in Prisma app with Watercolor.

 

 

 

 
Ricky's Challenge Photos
Smart Phone Challenge:

Week 25, Use a Mirror

Photo by Ricky Tims

Click to view a larger image.

Ricky says:

Thanks goodness for the hotel room dressing mirror. At first I thought it was a cop out - but working with the image, I ended up liking it.

 

 

 

\

Critique Group Challenge:

Week 25, Dark And Stormy Night

Photo by Ricky Tims
from the 2023 Critique Group

Click to view a larger image.

Ricky says:

It was a dark and stormy night. Brandon and Hank decided to linger at the bar a bit longer and ride out the storm. It made for a good excuse to down a few more cold ones.

This image took a lot of fancy footwork. I shot the pair of guys with my iPhone at the Chris Stapleton concert - street photography at its best because nobody is paying attention to a stealthy iPhone. I located a photo of an old bar from a while back and then had to turn light and color into a more sinister and ominous mood. That was done with layers - gradients - and blending modes. My goal was to make the image seamless. Even the original photo of the bar was in daylight with bright windows.

The original photo from the concert can be seen here; https://rickytims.smugmug.com/Challenges-Extra-Photos/n-RPZVSn/