Pink Flower Prelude, 2022
Machine pieced, free-motion machine quilted, antique buttons
Roberta Horton and Mary Mashuta, twin sisters from Berkley, California, are notable influencers during the renaissance of quilting. Both ladies were popular instructors and authors. Roberta attended a quilting event in 1970 and instantly knew the trajectory of her life from that point - quilting! In 1973 she taught the first accredited quilt-making class through adult education in California. 
Traditional quilts were her source of learning. She studied antique scrap quilts which taught her much about fabric usage. Amish quilts provided a key to color. She explored international aesthetics (Japanese, African, Australian) and soon realized that traditional formats were somewhat limiting. Roberta wrote, "Studying African-American quilts taught me how to build a quilt in a new way. The acquiring of the fabric is half the fun. The other half is figuring out how to best showcase it."
Roberta designed several lines of fabrics and was known for her plaids. She passed away on February 4, 2021, but her legacy lives on. Mary Mashuta contacted me with a request to make a quilt in tribute to Roberta using her fabric line. Summertime Serenade was my attempt to honor Roberta with the use of primitive and whimsical patchwork while taking her fabric and "figuring a way to best showcase it." I chose to use her plaid fabric and blend them with a few batiks (fish) and an over-dyed print (main background). Of special note are the two buttons (fish eyes). These are antique fabric-wrapped buttons from my own grandmother's button tin. The Roberta Horton tribute exhibition will be held at the Pacific International Quilt Festival on October 13-16, 2022 in Santa Clara, California.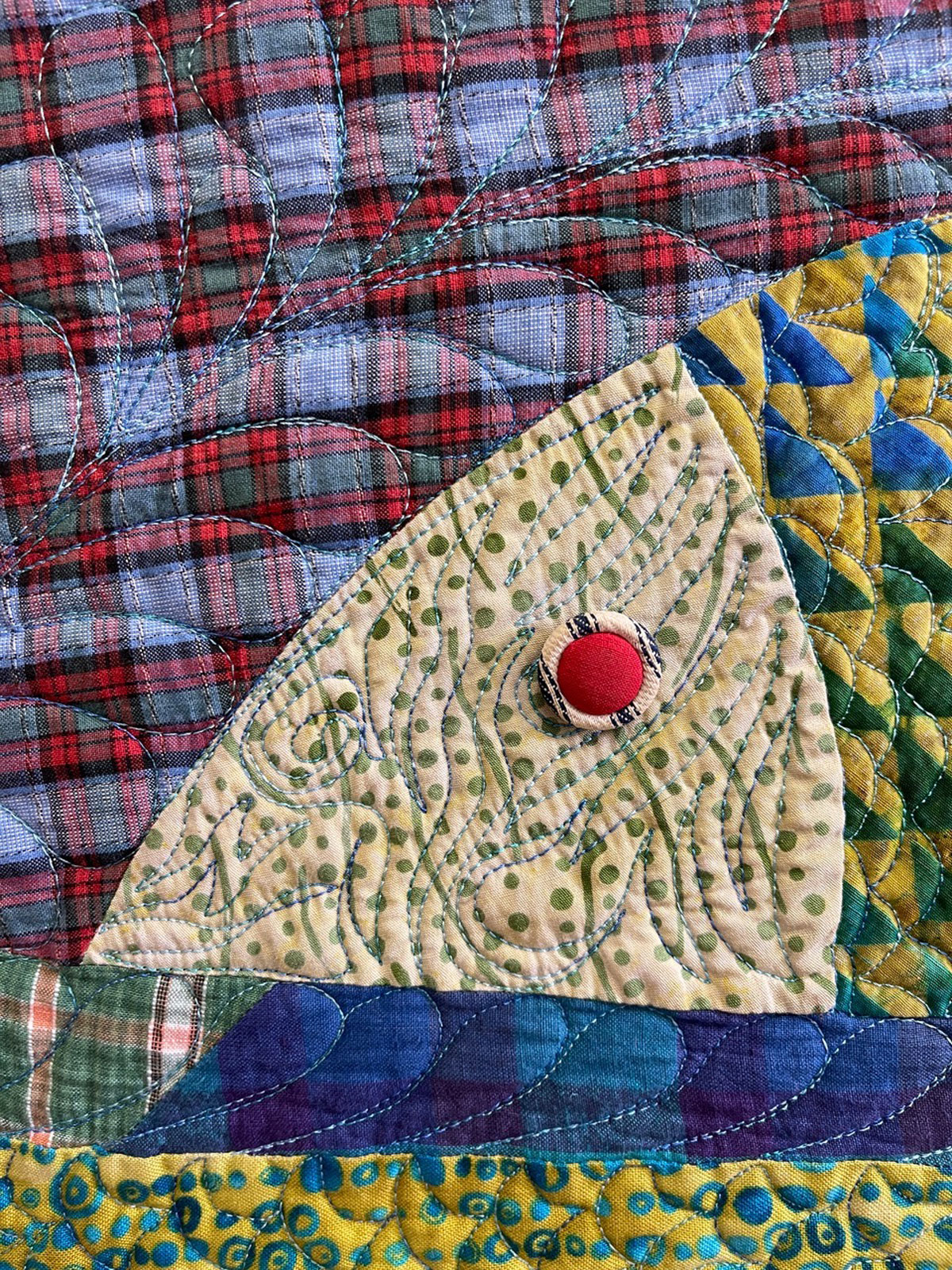 click on quilt for full size view
TRY THE JIGSAW PUZZLE
Choose your own difficulty. Click the 9-patch grid to change number of pieces. Click the circle arrow to make the puzzle pieces rotating instead of stable orientation. Also, there are tips under the "?" on the upper right of the puzzle. If you'd like a full screen version, click the button below. Have fun!