Photos of the Week - Week 25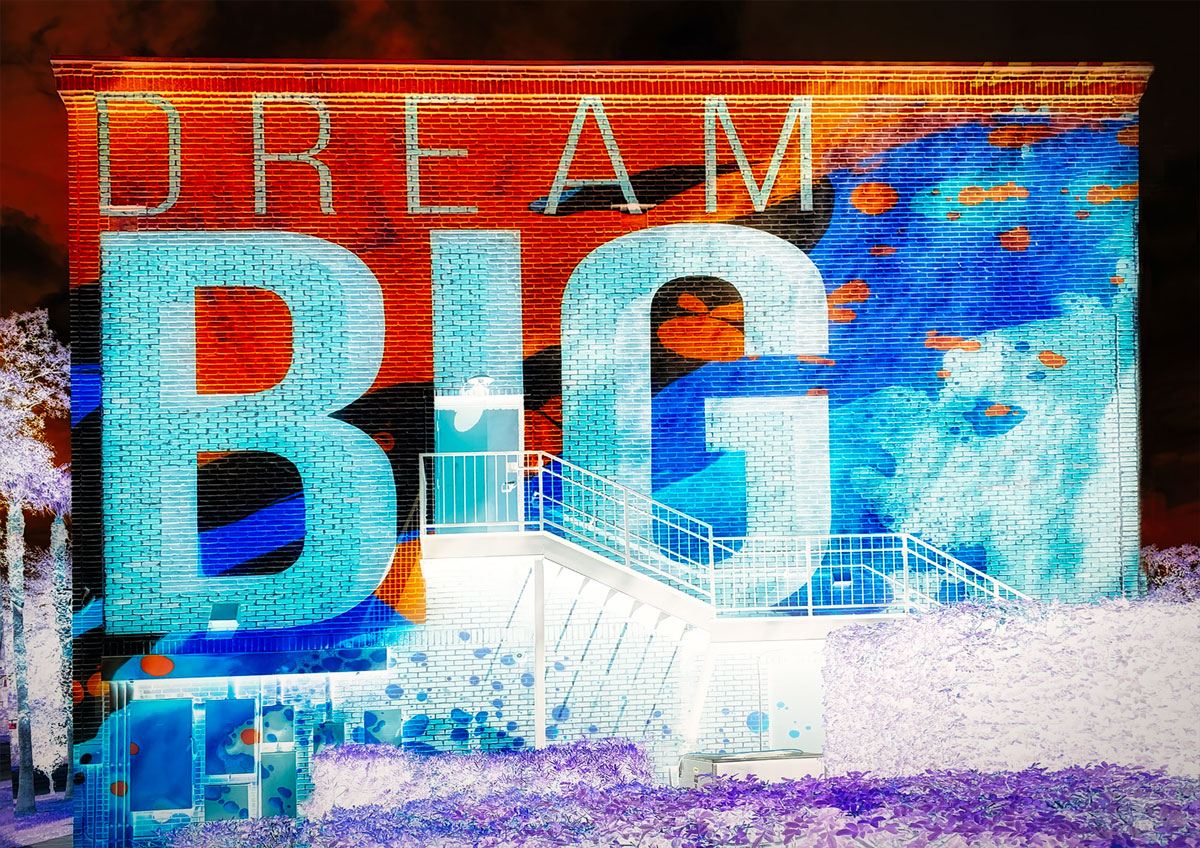 Critique Group Challenge: 
Week 25, A Dream
Photo by Rocky Wells
Click to view a larger image 
Rocky says:
If you are going to have "a dream", then DREAM BIG & IN COLOR"! This is a shot of the side of a building in North Tampa I took on Father's Day when Gayle & I were headed to my daughter's home for a family get-together. I have passed by this many times in the past and always thought it would be cool to use if an appropriate challenge presented itself. And it did thanks to Ricky!!

This 'Dream Big' mural is Diamond View Studios' call for business inspiration, but became my inspiration for this weeks' challenge topic. In 2015, Diamond View bought the unfinished building — full of reclaimed brick from a Virginia road — out of foreclosure, and built out the interior worthy of recognition as Tampa Bay Business Journal's Coolest Office Space in 2016. To me, the exterior is the crowning touch, not only because of its message, but also by the visual aesthetics.

Of course, I had to apply my "a la Rocky" touches and ended up doing an invert of the colors to make this "a dream" type of thing that I would see "in my dreams"...

Dream on my brothers and sisters!! PEACE
52-Week Photo Challenge Class


Week 25 - Embrace Presented

 

Week 52 Photo Challenge:

Week 25, Embrace Presented

Photo by Laurie Lee

Click to view a larger image.

Laurie says: 

Plan: Photos of some mandarin ducks in our neighborhood pond. Unfortunately, those mandrain ducks swan toward the shadows of trees on the pond and was too far for me to capture any good photographs of them. I look around and found a neighbor's sprinkler was on. The water spray against the Sun forming some sort of mist which drew my attention. I used ICM to create this abstract image. LR basic, adj colors.

 

Smart Phone Photo Challenges




Week 25 - Paper

Smart Phone Challenge:

Week 25, Paper

Photo by Star Carpenter

Click to view a larger image.

 Star says:

A paper bouquet. Edited in Prisma app with Old Fashioned and in Snapseed.
Ricky's Challenge Photos
Smart Phone Challenge:

Week 25, Paper

Photo by Ricky Tims

Click to view a larger image.

Ricky says: 

 

 

 

 

 

\

Critique Group Challenge:

Week 25, A Dream

Photo by Ricky Tims
from the 2022 Critique Group

Click to view a larger image.

Ricky says:

Today as I was working on this challenge the day was filled with rain and fog and mystery all over the mountain. I took several Nikon photos and worked on doing double exposure blending to create a fantasy. My efforts were ok, but fell short. Tonight as I was taking the dogs out for the final time, the solar lights and my little table sitting area became a wonderful subject. I ended up experimenting with my iPhone to do some rotation with long exposure and then I also did a fairly straight shot are used an image blending app to do the double exposure to create a feeling of a drain in this foggy dusky setting