Sandy Hook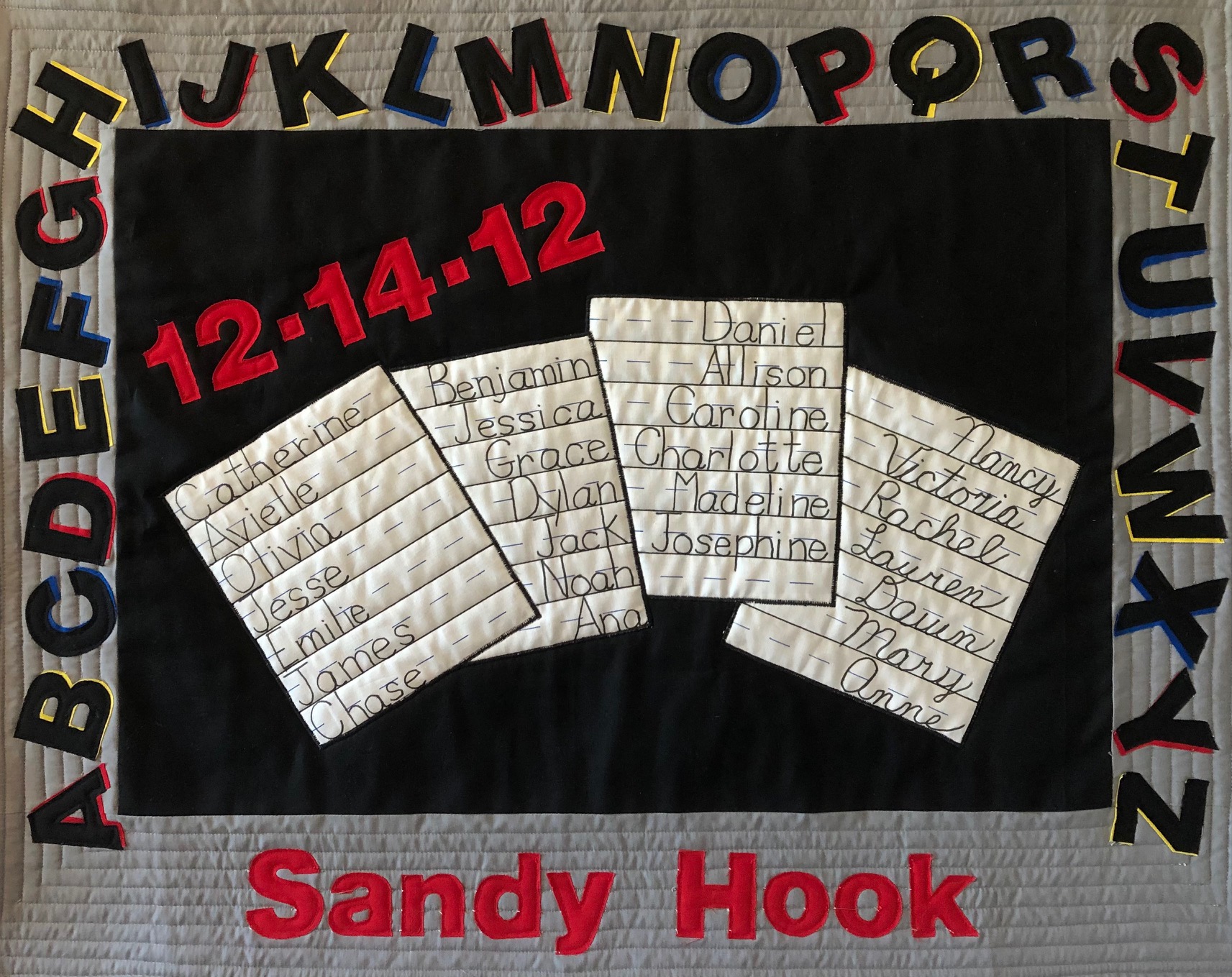 Click to view larger image.
Sandy Hook Elemnentary School
Newtown, Connecticut
December 14, 2012
This commemorative art quilt was the most difficult one for me to make. Throughout the years I have had friends ask me how I can make such tragic quilts without falling apart emotionally. The answer - I focus on design and techniques I want to use, not the actual event, when I am creating these quilts. But this quilt was different, more difficult. In fact, most of these quilts have been worked on and finished shortly after the event took place. Not this one. My thoughts would not stay connected to the design and implementation of techniques. Personal, editorial comment: children shouldn't die a tragic death. Children shouldn't die, PERIOD. So this quilt has been painstakingly worked on for several years, not because of its intricacies (it really isn't that intricate), but because I couldn't stay focused on the creative process. I would remove it from where it was stored and attempt to finish it on numerous occasions. In fact, I'm not sure it's finished yet. Several things have changed on this quilt since its inception shortly after the event. Initially, the colors were too bright similar to what a childhood should be. Since then I have "subdued" the quilt, shadowing the primary-color alphabet, and choosing gray as a border instead of bright white. But I did keep one of the original ideas. These children were young and involved in learning, including writing their own names. I wanted to focus on the names of the deceased in this quilt and I selected the old-fashioned paper that for those of us who are older, we may have used as a learning aid. The "block" names are the children who died during this event. The cursive names are the teachers/staff members who died. I also included the shooter's mother who was killed by him earlier in the day.
Pulse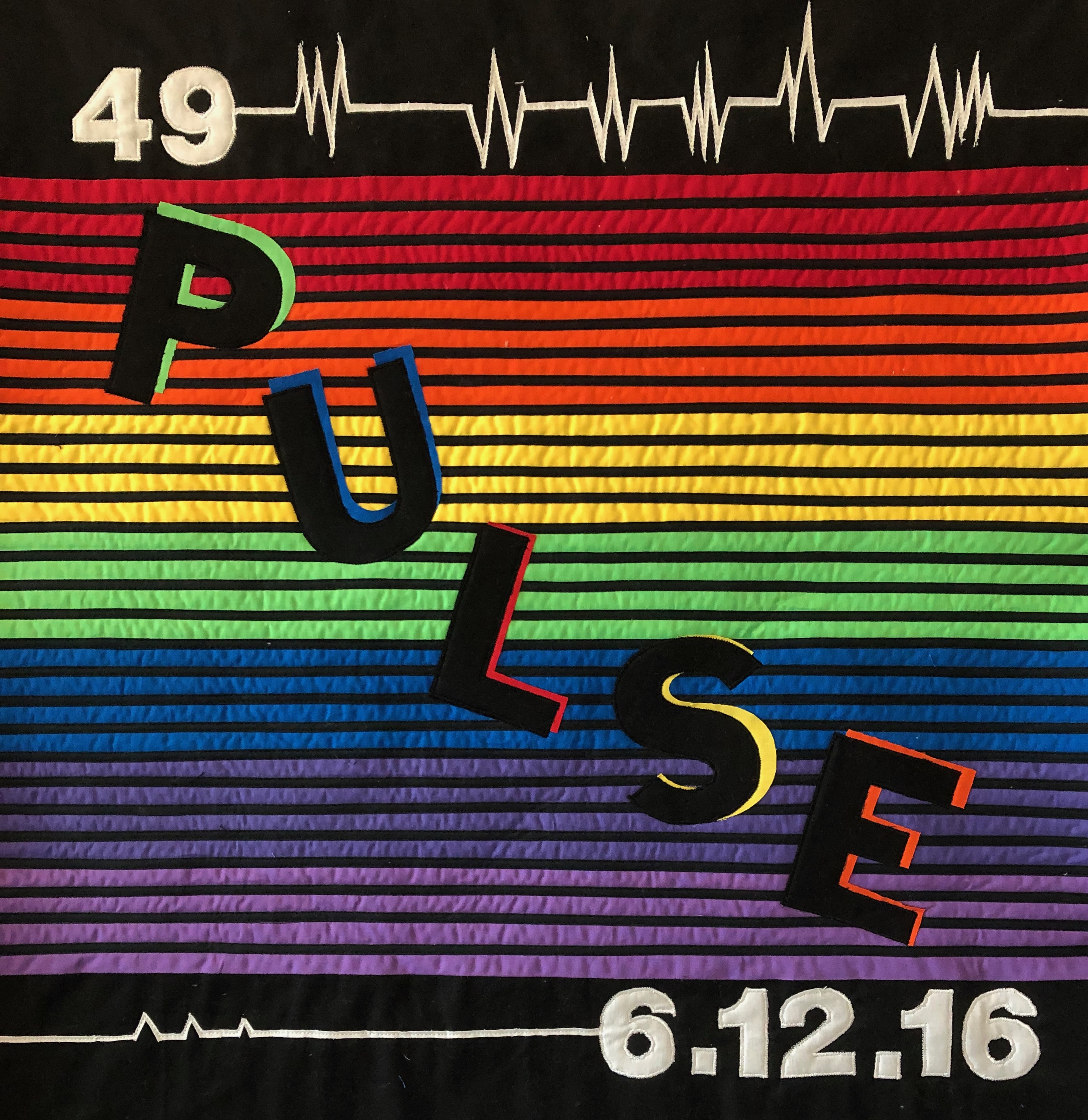 Pulse Nightclub
Orlando, Florida
6/6/16
A lone gunman entered this primarily gay nightclub and killed 49 people, injured 53 others. This was the deadliest shooting in our country that focused on the LGBTQ community. Because one of the most well-known "icons" of the gay community is a rainbow, I wanted these colors highlighted on this quilt, plus I felt a heartbeat would be appropriate as a reference to the name of the nightclub. On the top right, the perimeter of the quilt begins with the number killed, then evolving from a full pulse to a fading pulse, resulting in the date of death.
No Time
 

 

Click to view larger image.

Las Vegas, Nevada

10/1/17

A lone gunman fired into a crowd of people enjoying an outdoor concert.

He fired from several stories above from a hotel room. Fifty-eight people were killed, 411 more were injured.

When I thought about this event, my primary thought was about the hundreds of people who were enjoying a fun musical venue that evening. For me, there HAD to be music in this quilt! Further thoughts led me to wonder about the violent end of their lives and how they had many dreams, ambitions, and relationships ahead of them if this mass shooting  had not occurred. I included a narrative in the musical lines that referenced these lost dreams, lost time, lost relationships. And I decided to honor the victims with their "frayed" names on the quilt. This was the first commemorative quilt in which I decided to include personal names.

 
Sanctuary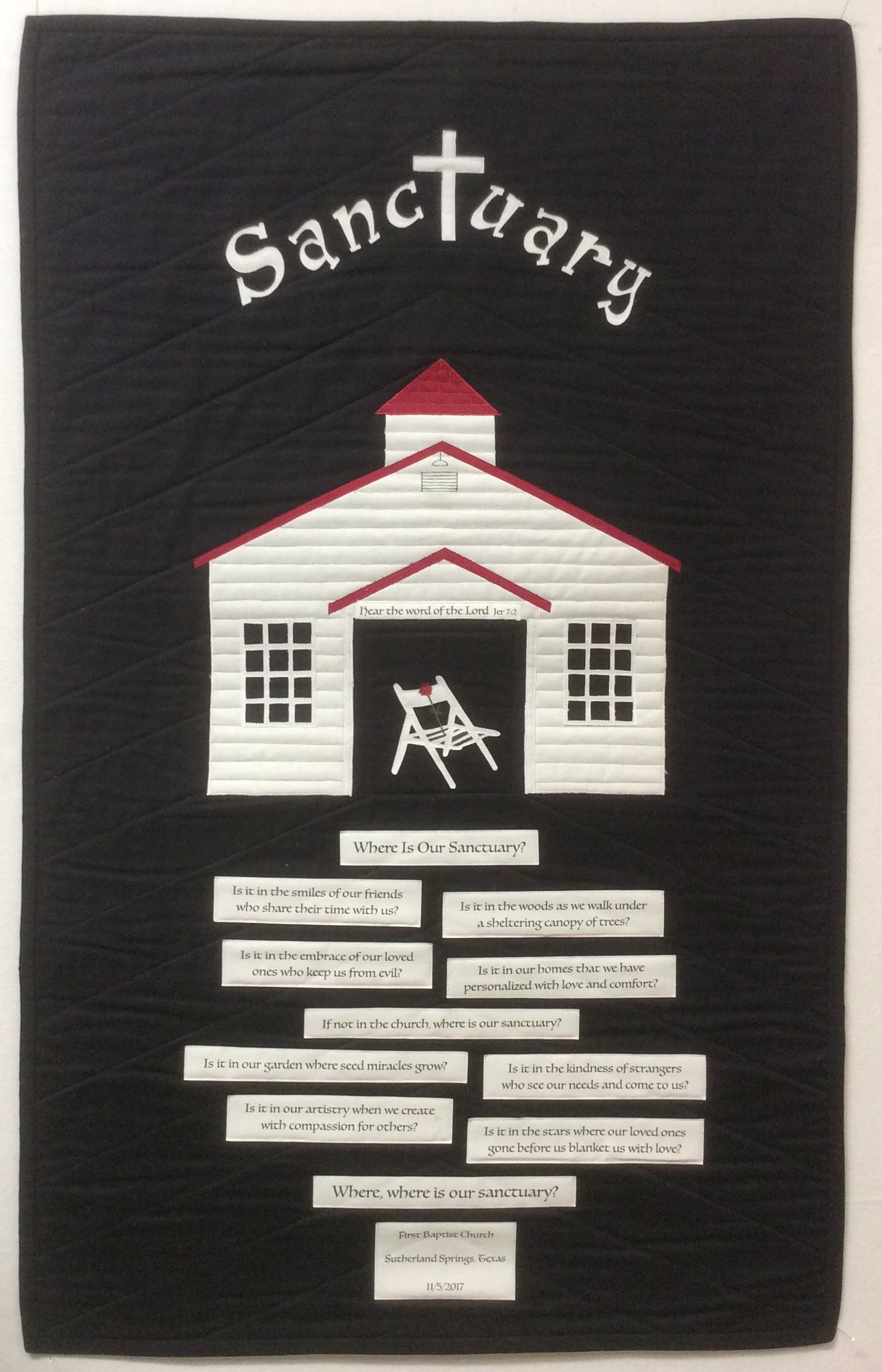 Click to view larger image.
Sutherland Springs, Texas
11/5/17
A lone gunman entered the church and killed 27 people, injured 22 others.
Even churches and other places of worship are not immune to tragic events. When I heard about this shooting, I wondered where a person might go that would provide safe sanctuary, thus the questions I came up with became the focal point of this quilt. I searched online for information regarding the church and what had occurred. A picture of a gathering approximately a week later, inside the church, showed folding chairs all painted white with a single rose laid on each one to signify the twenty-seven people killed.