Challenge Photos from Week 33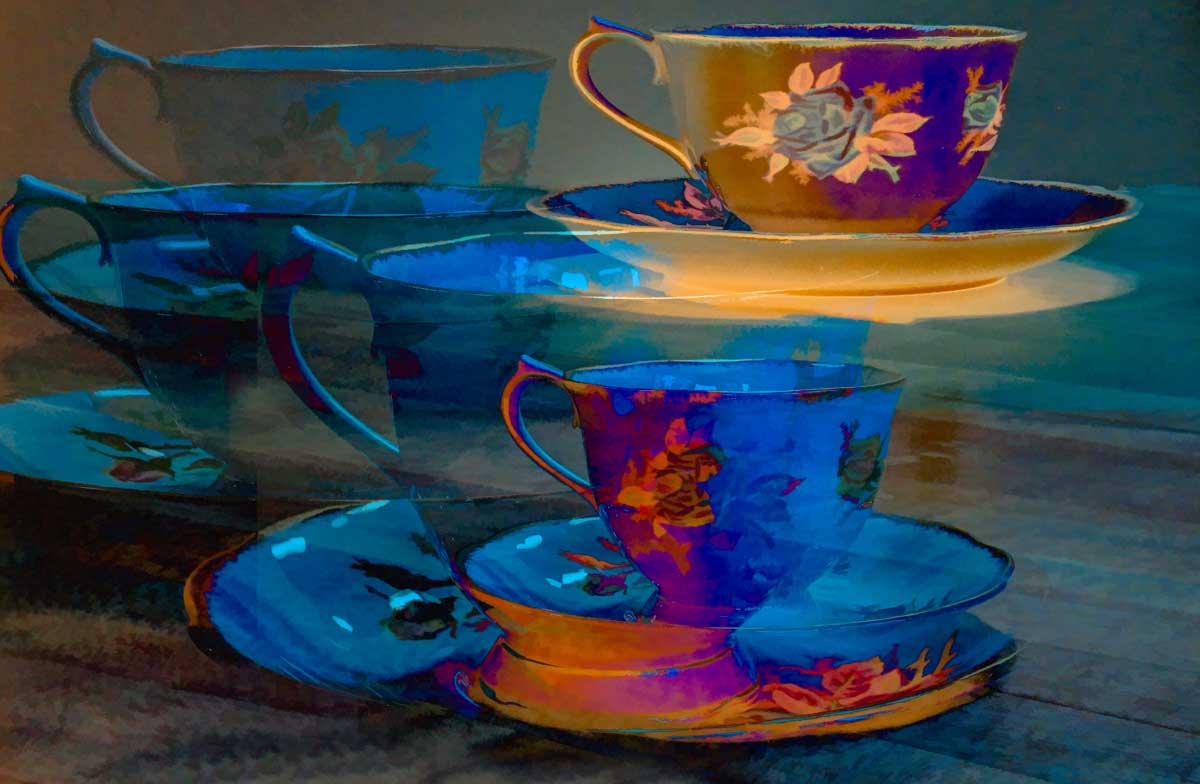 Critique Group Challenge: Week 33, Cup & Saucer
Photo by Joen Wolfrom
Click to view larger image.
Joen says:
After discovering the theme, I decided to play creatively within the editing process using multiple cups and saucers within the image. I dozens of photos of a cup and saucer on our wooden kitchen table, but ended up only using a couple.

I worked to death 4 different versions of teacup images, playing with 5 – 9 layers and ended up getting myself caught in all sorts of visual editing problems. Basically, I changed the opacity of the different layers, did a bit of cloning, and used the spot-healing tool to eliminate some distractions. Then I explored the different blending modes to see what evolved with the different options. I believe I used linear light for this image. I tinkered around with shadows, highlights, etc. and then finally said, "enough" as I was driving myself batty. I needed to stop this teacup madness before I got any deeper in the editing weeds and hit the wall
52-Week Photo Challenge Class




Week 33 - Found Alphabet

52-Week Challenge: 
Week 33, Found Alpabet
Photo by Thomas Bradley

Click to view larger image.

Thomas says:

 

 

Smart Phone Photo Challenges




Week 33 - Snacks

Smart Phone Challenge:
Week 33, Snacks
Photo by Diane McCue

Click to view larger image.

 Diane says:

It's cherry season here in New York. These taste as good as they look! A little help from Waterbrush app.
Ricky's Challenge Photos
Smart Phone Challenge:


Week 33, Snacks

Photo by Ricky Tims

Click to view larger image.

Ricky says:

In Nebraska for the lecture there was a snack table with very yummy cookies - which I did partake, and did take a photo. But I found the tea dispenser and cups more interesting. The trick was to start the flow and take the photo before my cup ran over. I barely succeeded. I like this main element flanked by less dominant companions. Edited in Prisma app with Tokyo

 

 

Critique Group Challenge:

Week 33, Cup & Saucer

Photo by Ricky Tims
from the 2021 Critique Group


Click to view larger image.

Ricky  says:

This is from my small collection of Dingle Pottery, from Dingle in Ireland. Hedi is a wonderful and fun potter and I never stop in Dingle without adding a bit to the collection. For this shot, I tried multiple options—including one which included a portion of my blue-shirted belly (you can thank me later). I chose this one, with the cup upside down on the saucer - near straight on. The slight offset off the center circle was more interesting to me than the bullseye version. The counter top was white - so I added a gradient layer - blended it with a blend mode - and then erased over the cup/saucer. I opted not to clone out the hot white center refelction partly because it draws the eye to the smallest ring, and partly becuse it was a bit like an "eye" with a refelection. No other fancy footwork - pretty straight forward this week.