2021 Smart Phone Group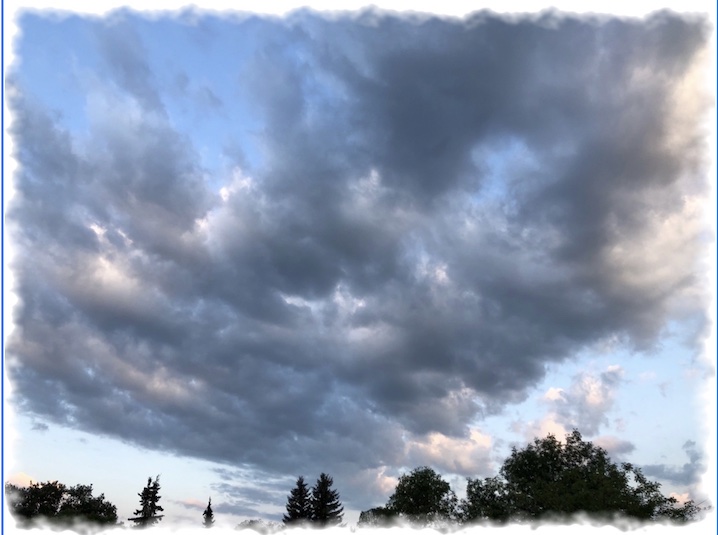 Smart Phone Group: Clouds
Photo by Alberta MacAulay
Click to view larger image.
Alberta says:
I enjoy sky watching in the early morning, to see what kind of day I am have. Today will be a day of transition as our normal temperatures start to soar as another heat dome approaches.
2021 52 Week Challenge Group

Challenge: Silhouette
Photo by John Coote

Click to view larger image.

John says:

This image was captured in a 'Carpe Diem' moment in a Street Photography manner. I was down at the shore with friends from my Photography Society and stayed to see the sunset develop.

I shot this image with my camera at waist height pointing to my right and I framed, focused and took the image using the swivelled LCD display.

In LrC I removed some distractions to the left of the subject using the clone tool but left in those to the right to show that my subject was not alone. The shallow depth of field around my subject retained the focus on him.. To enhance the silhouette I darkened the shadows. This had the effect of increasing the saturation of the colours, so I knocked these back by decreasing the vibrance and saturation.

I reviewed the image in B&W, but felt that the colour version was more pleasing.

 

2021 Critique Group

Challenge: Dripping
Photo by LizWhitehead

Click to view larger image.

 Liz says:

Dripping - Mother Nature provided me my challenge shot for the week - major thunderstorm, flash flooding, camera in the entry way, and dripping from the gutter. I took alot of shots from the entry way of the rain hitting the street, the yuccas and even the sidewalk (that I used for the subject for a couple of past challenges)

I got this shot right before the drip fell - didn't catch the drip though - darn.
Ricky's Challenge Photos:

Challenge: Clouds
from the 2021 Smart Phone Group

Click to view larger image.

Ricky says:

We didn't seem to have any major sunrises or sunsets this week, but we did have significant rain. This was taken shortly after a thunderstorm

 

 

 

 

Challenge: Dripping
from the 2021 Critique Group


Click to view larger image.

Ricky says:

I spray painted white paper and let it drip - combinded with a panned shot of slightly vertical panned grasses.