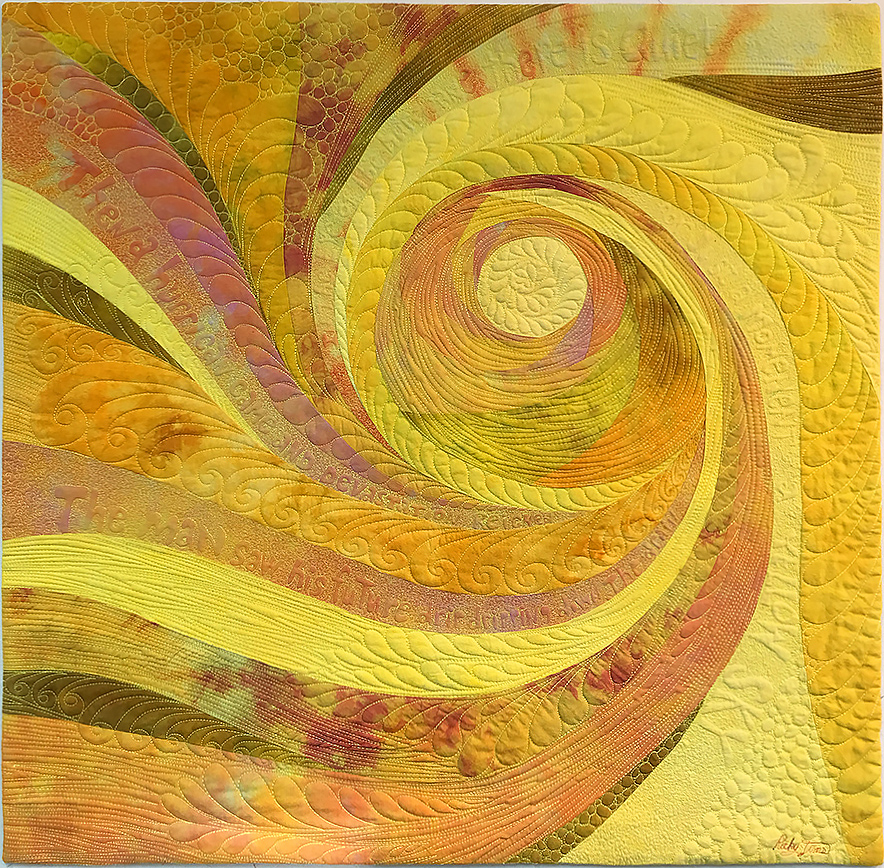 Hurricane by Ricky Tims
Click image for detailed view
In 2017 we had a Broadway Show challenge on an episode of The Quilt Show. Meg Cox was our featured guest and she would be partaking in the challenge along with myself and co-host Alex Anderson. Being a Hamilton, the musical, addict, I knew that would be my choice. Alex chose Wicked, and Meg chose Into the Woods.
In the musical we learn that Alexander Hamilton, an orphan, was impacted greatly by a hurricane when he was a teenager. An essay he wrote about that storm led a group to raise funds and send him to New York for college education which was on the brink of the American Revolutionary War. There is a song where Hamilton is reminiscing about life and how his words have been his salvation as well as his ticket to advancement. In the song he sings, "In the eye of the hurricane there is quiet, for just a moment, a yellow sky". That phrase became my inspiration for this quilt.
It is hand-dyed fabrics and free-motion machine quilted on a domestic sewing machine. You'll see other phrases from the musical stitched into the quilt too.
 TRY THE JIGSAW PUZZLE
Choose your own difficulty. Click the 9-patch grid to change number of pieces. Click the circle arrow to make the puzzle pieces rotating instead of stable orientation. Also, there are tips under the "?" on the upper right of the puzzle. If you'd like a full screen version, click the button below. Have fun!