2021 Smart Phone Group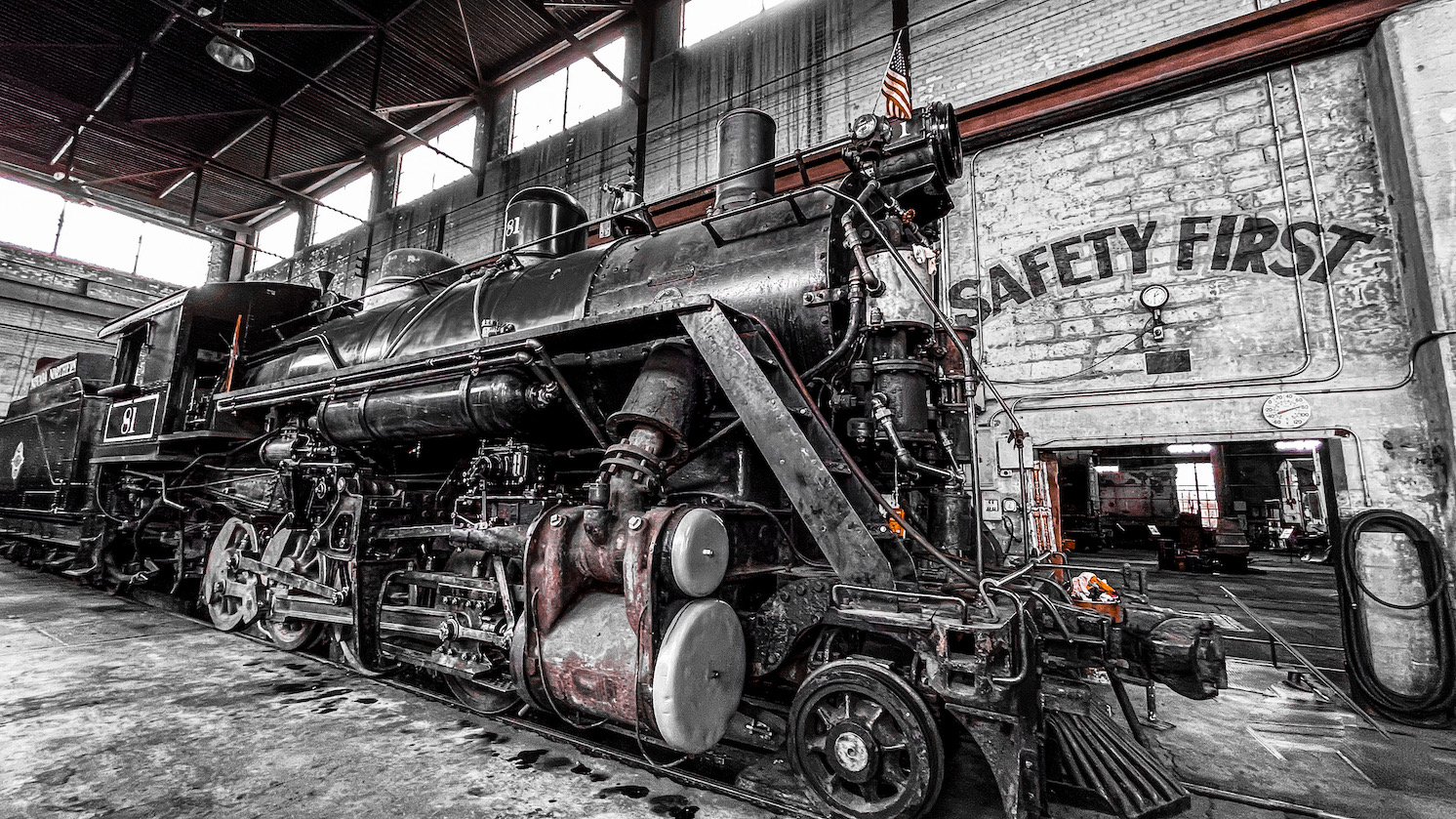 Smart Phone Group: Year Word Revisited
Photo by Warren Lee
Click to view larger image.
Warren says:
This year's word is 'Wonder'. Most of this year I have focused on the amazing natural beauty around us. This week I had the opportunity for a PhotoSafari to Northern NV for the Milky Way with the mirrorless camera. During the daytime we explored the Northern NV Railway museum. The town of Ely, NV inherited a railway when the local mine abruptly ceased operation. This became an opportunity to preserve a portion of our history. Two steam engines have been in operation. This one, old 81, is in the final stages of restoration. The working docent is the father of the program manager for this effort. As a young man from Florida, the son became entranced with steam engines. It became his calling and profession with a subsequent relocation from Florida to rural Northern NV. What a wonder (and joy) to be able to pursue your passion as a profession each day. I processed this image in PhotoShop Express using the 'Carmine" treatment. Wishing you amazing journeys of discovery and wonder - not too far from home.
2021 52 Week Challenge Group

Challenge: Flowers and Macro
Photo by Karen Kay Buckley

Click to view larger image.

Karen says:

Was taking some shots of my Hydrangea when this little guy landed. He turned ever so slightly and the sun hit him perfectly.

 

2021 Critique Group

Challenge: Year Word Revisited
Photo by JoAnn Banks

Click to view larger image.

JoAnn says:

My year word for 2021 is Artistic. I have loved taking photos of my sunflowers this summer. I snapped this one using my iPhone when I noticed the lovely sun highlighting the pedals. I used an artistic effect from Smart Photo Editor which turned the sky into a wood texture.
Ricky's Challenge Photos:

Challenge: Year Word Revisited
from the 2021 Smart Phone Group


Click to view larger image.

Ricky says:

Barley is not yet two years old, but he has been an old soul since I got him at age eight weeks. His spirit is deep, calm, even-keel, and insightful. I have come to the point where I tell all my friends, if you are needing insight, clarity, or wisdom on any topic - sit down and have the conversation with Barley. He is a wise old man and I would trust whatever guidance he offered. (I'm okay if you think I'm crazy).

 

 

Challenge: Year Word Revisited
from the 2021 Critique Group


Click to view larger image.

Ricky says:

My year word is WISDOM. That's hard to photograph and make it visually clear without some sort of explanation - so here's my explanation. I want to make wise choices. This goal has stuck with me daily as I pursue so many things and face so many decisions. I can't make wise choices if I don't have all the facts and see things clearly. I need a light to shine on all my options so that I may see more clearly as to what lies ahead. I chose to not only shoot a light that is partially hidden, but also the pannning to show that even if I find the light, clarity in those choices is not always there. But if I look at the big picture, I will see the light and no matter how fuzzy things may be, I can identiy what it is that I need to see and do. So - that's my round about way to WISDOM revisited.