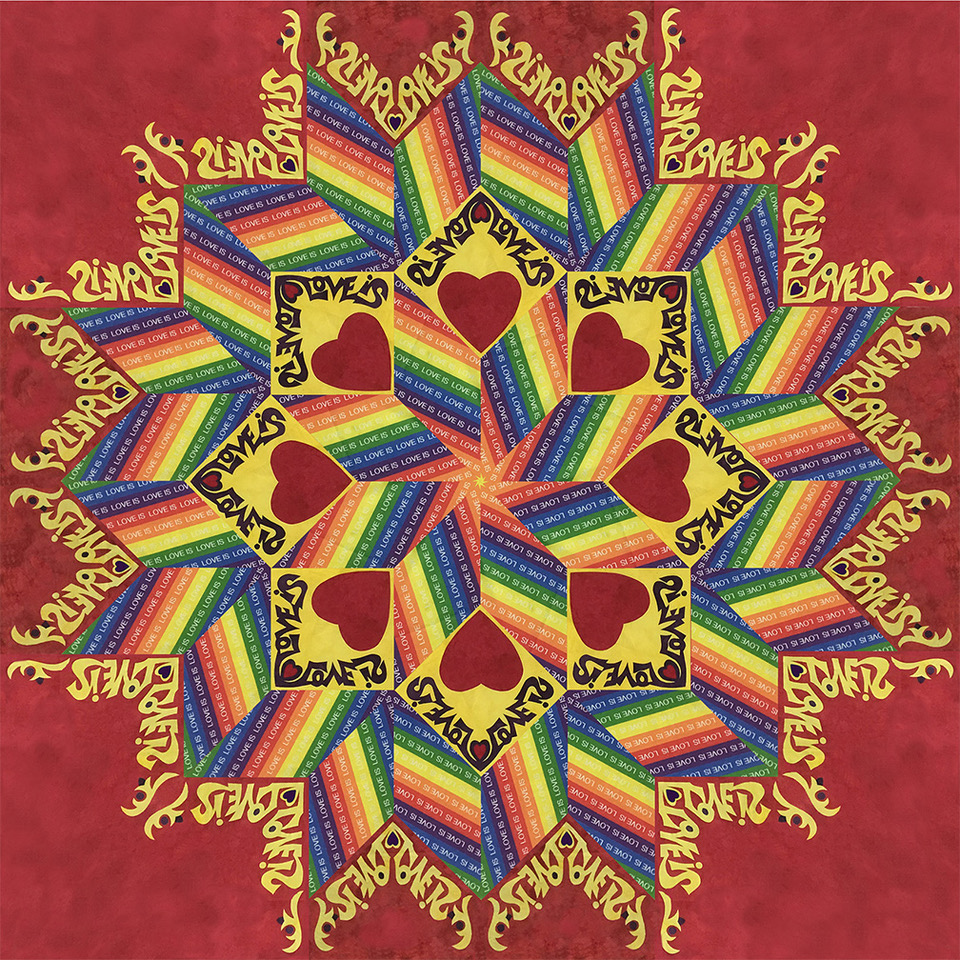 Love is Love by Ricky Tims
81"x81"
Click for detailed view. 
Love is Love is the most unexpected quilt and pattern I've ever created. It happened when two significant events collided. June is the month for LGBTQ awareness and the perfect time for sharing this quilt and the story behind it. Many of you will remember the Orlando Pulse nightclub massacre that occurred on June 12, 2016 where a gunman took the lives of 49 souls and wounded 53 others. For me, that day married triumph and tragedy. You see, I had become a huge fan of Hamilton (the musical). I was so inspired by the genius of Lin Manuel Miranda that I wanted to go to NYC and see him and the original cast before they left the show. On June 6, 2016, I did. Six days later I was back in Colorado and I was excited about the Tony awards which were to take place on the evening of June 12, 2016. Hamilton was the projected favorite to win Best Musical. I woke up that morning to the news of the shooting  in Orlando. It was such a shock—numbing. I wondered how it might affect the Tony awards, which would surely proceed as planned, but the mood would, no doubt, be somber.
Lin Manuel's acceptance speech for Best Musical was poignant. It ended with this…
"This show is proof that history remembers. We live through times when hate and fear seem stronger. We rise and fall and light from dying embers. Remembrances that hope and love live longer. And love is love is love is love is love is love is love cannot be killed or swept aside." 
I was so moved by the words that night that I immediately designed Love is Love fabric and made it available for sale on Spoonflower.com. I ordered my own yardage, and when it arrived, I felt strongly that I needed to use it somehow in a quilt. I had little time, so I decided on big chucks. The diamonds of a Lone Star seemed reasonable. As I moved forward, it (the quilt) was begging for another round of diamonds to become a Broken Star. The quilt then pleaded for appliqué with the words, LOVE IS LOVE - and those became the feathery appliqué. The pattern is available. The Love is Love fabric is only available from www.spoonflower.com. 
The fabric sales allowed me to contribute to the LGBTQ community and to help raise awareness... that love is love is love is love is love and cannot be killed or swept aside. 

 TRY THE JIGSAW PUZZLE
Choose your own difficulty. Click the 9-patch grid to change number of pieces. Click the circle arrow to make the puzzle pieces rotating instead of stable orientation. Also, there are tips under the "?" on the upper right of the puzzle. If you'd like a full screen version, click the button below. Have fun!