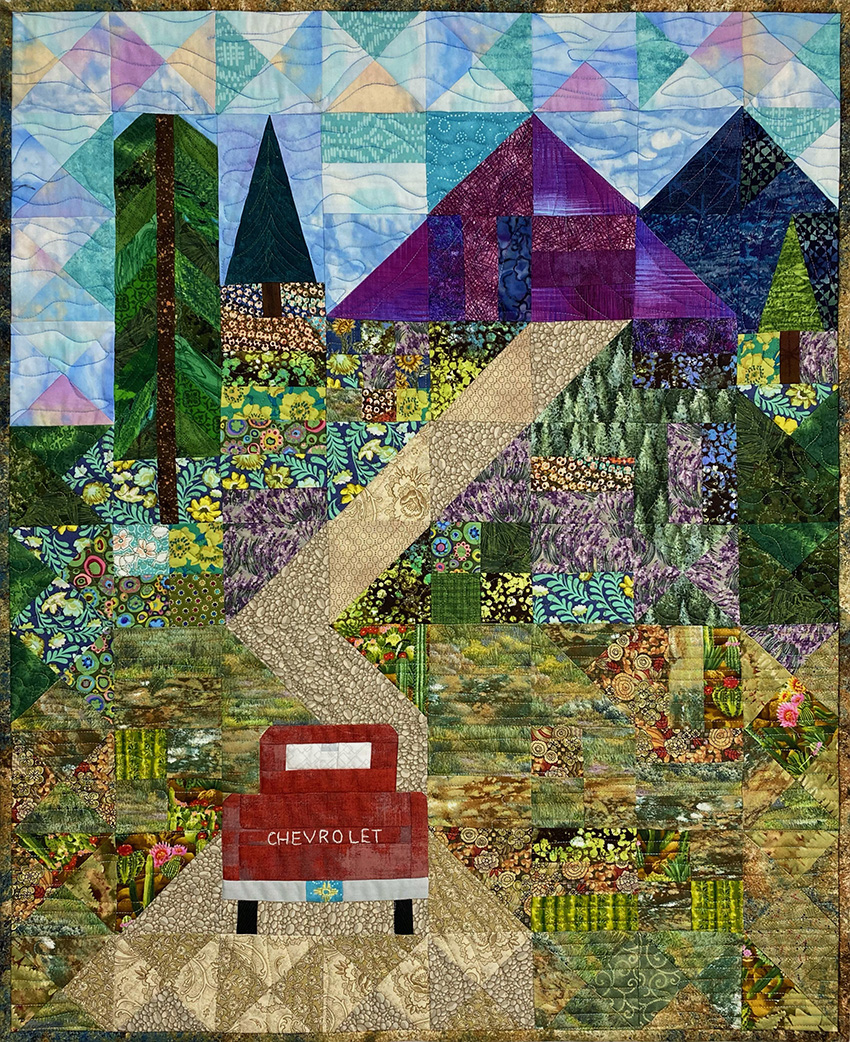 Headed Home by Lea Ann Ferring
Click image for detailed view
"We retired to the mountains of southern New Mexico from Houston, Texas in 2015. We now reside at 7500 ft elevation in the Lincoln National Forest but are surrounded by desert. Just to go grocery shopping involves going up and down the mountain! I've always loved seeing the transition of desert to mountain, each with its own unique flora and fauna. And while I do not own a pickup truck I thought an old red chevy would look nice as the vehicle heading home from desert to mountain home. So I named this quilt " Heading Home".
I've made many art quilts and  several improvisation-ally pieced quilts. The gridified process that I learned from Ricky was a completely new experience. Once I understood what it meant to work "gridified" I couldn't wait for each lesson and I was tempted to "work ahead".  This class is for anyone from beginner to seasoned quilter; I am not a beginner but believe me I had plenty to learn. I had never taken a "zoom" style class before and was curious how that would go. Ricky is so supportive and the classes spaced a week apart allowed me to keep the pace, submit photos of progress and get feed back when edits were necessary. You are not just learning a new way to design an original quilt, you also have all the experience of learning from Ricky about design principle, line, scale, color theory, etc... like a an art lesson at the same time! I honestly could "gush" more about how much fun I had!"
NEW CLASS REGISTRATIONS UNDERWAY! DESIGN YOUR OWN ORIGINAL QUILT WITH GUIDANCE FROM RICKY TIMS
in GRIDIFIED ART QUILT CLASS!

See all the quilts that were submitted for the 
Gridified Art Quilt Final Showcase 

 TRY THE JIGSAW PUZZLE
Choose your own difficulty. Click the 9-patch grid to change number of pieces. Click the circle arrow to make the puzzle pieces rotating instead of stable orientation. Also, there are tips under the "?" on the upper right of the puzzle. If you'd like a full screen version, click the button below. Have fun!