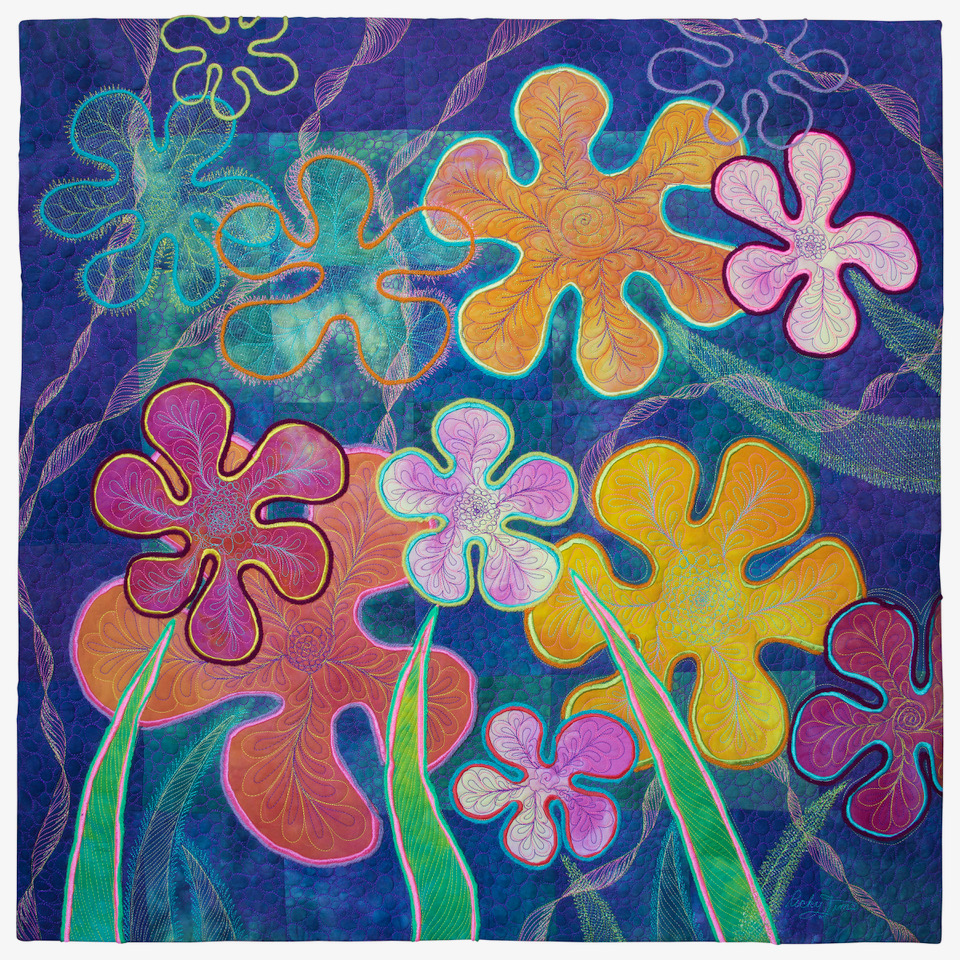 Hommage to Libby Lehman
by Ricky Tims, 2014 

Click image for detailed view
In April 2013 one of my dearest friends, quilter and quilt teacher extraordinaire, Libby Lehman, suffered a brain aneurysm. During recovery from surgery she had a massive stroke and was unconscious for about four months. It was a devastating time for all of us who loved her. The medical bills pilled up and we urged quilters to contribute to a medical fund. Another event that transpired was an invitational auction, to make a quilt and have it auctioned to raise additional funds for her therapy. 
This is the quilt I made to help. It uses many of Libby's techniques and designs. It is happy and cheerful and hopefully will make you smile, too. One of my favorite techniques in recent years is sewing on yarns and cording with the Bernina free-motion quilting foot (#43) which is a foot that was conceived by Libby and implemented by the Bernina engineers in Switzerland.
Libby no longer quilts nor teaches, but her recovery and fine quality of life is nothing short of a miracle.
Hommage to Libby Lehman detail 

Click image for detailed view

 

 

 
 TRY THE JIGSAW PUZZLE
Choose your own difficulty. Click the 9-patch grid to change number of pieces. Click the circle arrow to make the puzzle pieces rotating instead of stable orientation. Also, there are tips under the "?" on the upper right of the puzzle. If you'd like a full screen version, click the button below. Have fun!