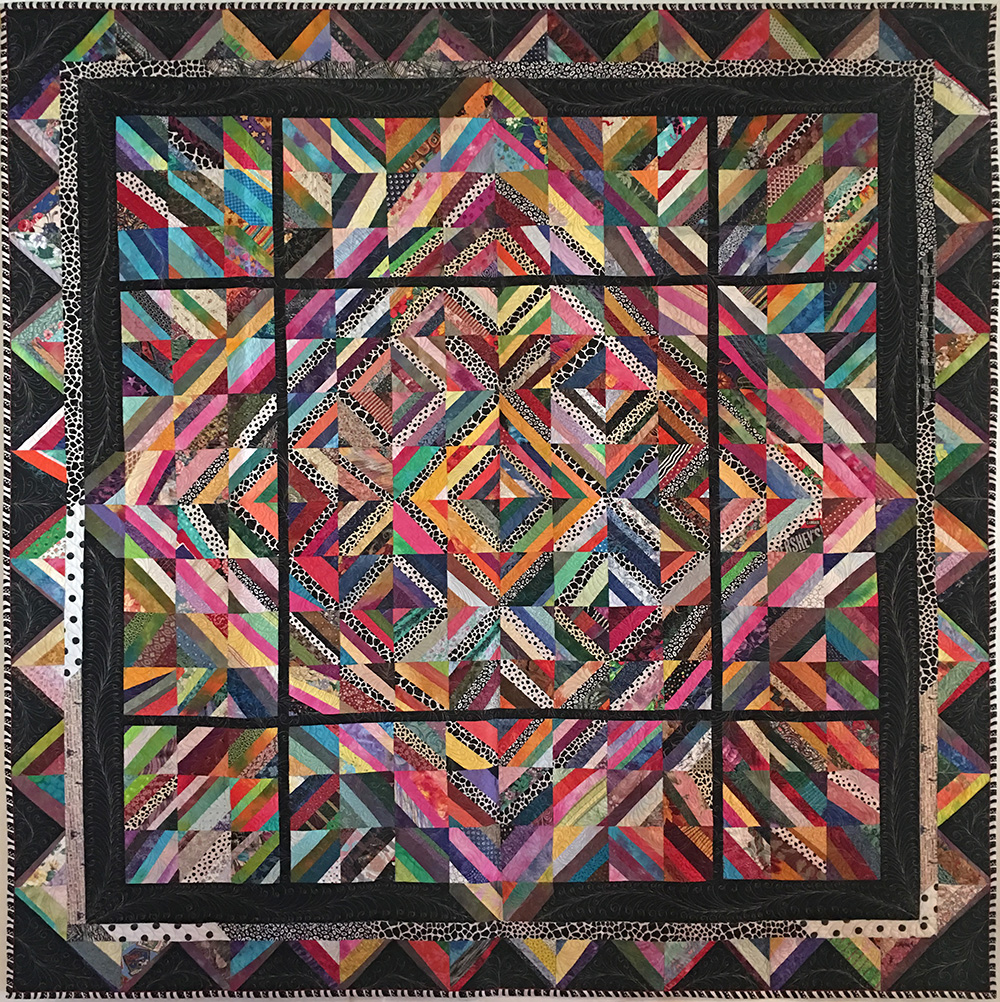 All That Jazz
by Ricky Tims 

Click image for detailed view
This is such a fun quilt and I had more than a blast making it. Get ready for this story!
Ninety-five percent of the blocks…I didn't make. I was a bit short of blocks when finishing the border on this so I made a few. Starting in 1994, I began teaching a foundation class that started with the students making two, 5-inch blocks on a muslin foundation. These were "string pieced" the old fashioned way (our grandmothers did this). All blocks are string pieced on the diagonal. I would hand out the fabric for the center strip. The rest of the strips were from student's stashes. Notice for example the black and white center strips. I might have used black and white for a year of classes all over the world. Sometime I would hand out pink - or blue - or…? In a class of twenty-five students, we made fifty blocks to play with and combine on a design wall in various arrangements.
We progressed on to the 2nd and 3rd excerises which became more complex. At the end of the day, students would often leave behind their two blocks. Taking home just "two random blocks" was not that desirable to the students. When I packed up after class, I often was leaving with 20-30 blocks. Over the years this added up. In truth, I made four quilts made from these leftover blocks. This was the biggest quilt on (and the last one) and measures about 90" x 90". It is also the only quilt that I've fully quilted on a longarm quilting machine. I'm a domestic, sit-down, push-the-quilt, sort of guy, but I had fun playing with this overall, free-form feather quilting.
If you are looking for happiness - make a scrappy string quilt.
All That Jazz detail 

Click image for detailed view

 

All That Jazz detail

Click image for detailed view
 TRY THE JIGSAW PUZZLE
Choose your own difficulty. Click the 9-patch grid to change number of pieces. Click the circle arrow to make the puzzle pieces rotating instead of stable orientation. Also, there are tips under the "?" on the upper right of the puzzle. If you'd like a full screen version, click the button below. Have fun!