Announcing the  GRAND PRIZE WINNER in the RISE UP QUILT CHALLENGE!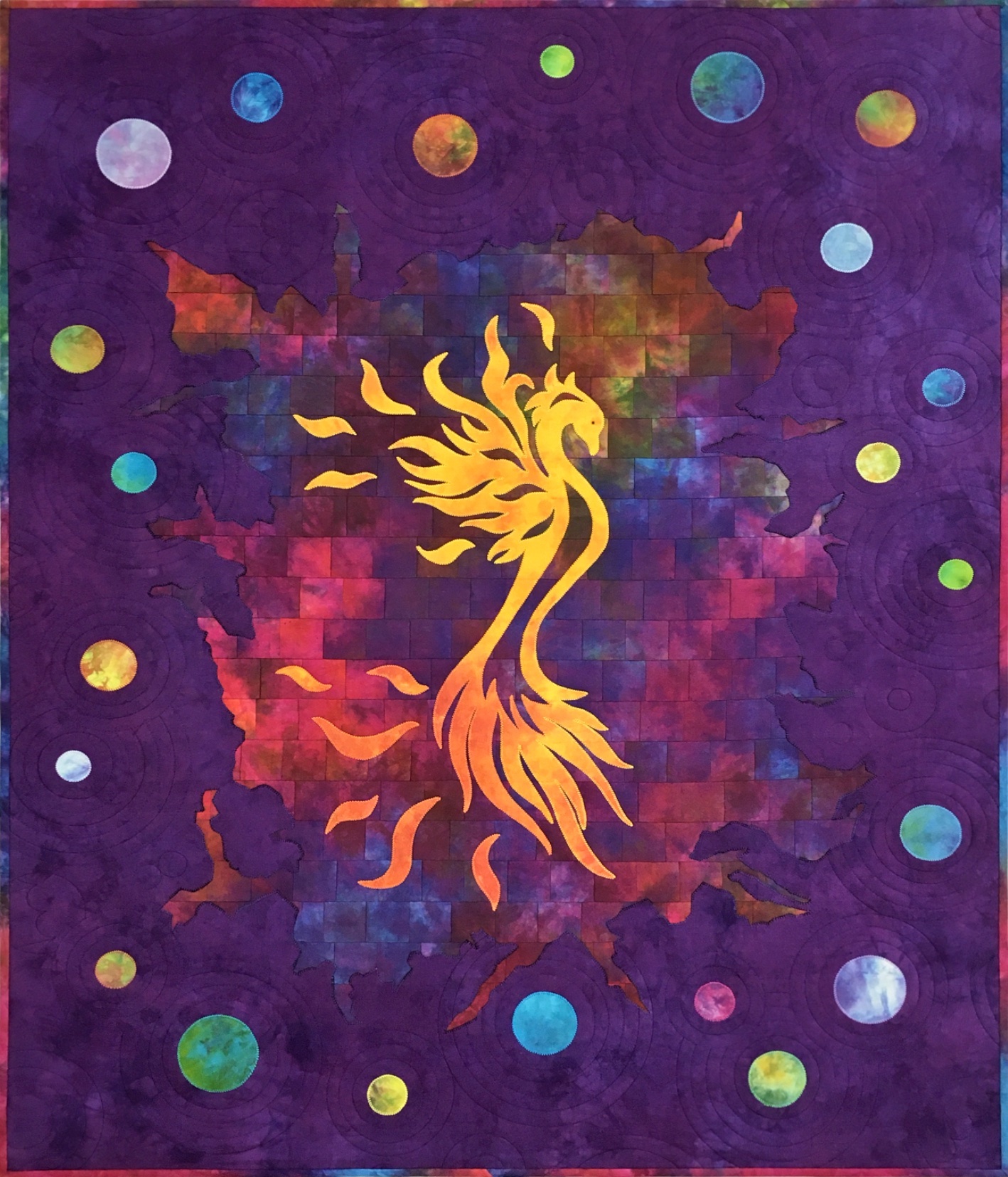 Social Bubbles by Denise DeGrandis, Thornberry, Ontario, Canada
GRAND PRIZE WINNER IN THE RISE UP QUILT CHALLENGE!
Click image for detailed view
SEE ALL RISE UP CHALLENGE ENTRIES HERE
About the Winning Entry
From Denise:
Where to begin? This challenge has made me consider my effort to remain optimistic during this ever present devastating coronavirus. Ten years ago, I saw a thriller film called "Contagion". The situation in that movie has become far too real. The societal chaos, isolation from and loss of loved ones, only leaving home for essentials and the forming of social bubbles has become a reality. Being retired and with no family close by it has been extremely important to keep busy, focus on and be grateful for the positive things in our lives. Thankfully, in our little bubble, we have 3 lovable dogs that help make our home feel busy.

Realizing that while everyone's social bubble is different, they also have much in common, a strong desire to resume our 'normal life'. My depiction of social bubbles are circles in a variety of sizes and colours surrounded by purple to show different feelings and relationships. The blended brick wall in the background shows the difficulty to move forward until everyone has been vaccinated. I thought the brightest part of this piece needed to be the phoenix symbolizing the vaccine arriving so we can, hopefully, all safely leave our social bubbles this summer!
 

 

Xanadu
by Carol Moellers of
Greene, Iowa, won 2nd place.

 

Carol says:

These last 10 months there have been lots of ups and downs, good days and bad. Being a business owner there have been some very uncertain, stressful moments. Making business altering changes to protect our staff and clients. Calming fears and trying our best to keep everyone safe from contacting the virus. Working through dealing with supply shortages of paper towels, cleaners, masks, hand sanitizers, spending hours trying to find suppliers to send us these needed items. Days were long and stressful. At the end of the day I would go to my studio to unwind and just relieve the stresses of the day. Xanadu was made to symbolize the emotions during this pandemic. I named it Xanadu because this is my "place" where I go to find peace and contentment. I was sitting on the couch early one morning working on my computer and looked up as the sun was rising. This beautiful, colorful sunrise was being painted across the morning sky. At that moment it hit me what to create for this Rise Up Challenge.  
A huge thank you to all who submitted and shared their stories and inspired creative endeavors during the time of this historic global pandemic. The additional entries can be seen here.
TRY THE JIGSAW PUZZLE
Choose your own difficulty. Click the 9-patch grid to change number of pieces. Click the circle arrow to make the puzzle pieces rotating instead of stable orientation. Also, there are tips under the "?" on the upper right of the puzzle. If you'd like a full screen version, click the button below. Have fun!