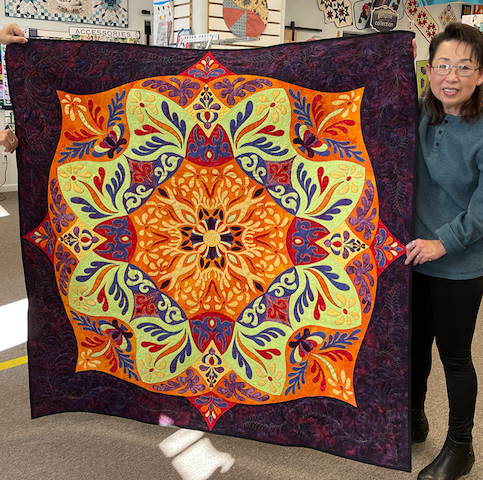 Mrs. Moo with her Viva Violetta
Click any image to see larger view.
Mrs. Moo put her own spin on my Viva Violetta pattern and I love how it turned out!  Check out her story:
I have been quilting since 2000. We had moved from California to Colorado end of 2005. In 2009 I'm teaching begining quilting class at High Country Quilts CO. Saw your book Feathers & Urns, love the design and colors. I am always want to try a new technique and free motion quilting.

Also had your free motion DVD too.

I had start working on the quilt beginning 2011. This is the only quilt I have timed to see how long going to take to finished and it take about 380 hours to completed. I am very happy. Thanks to you "Ricky" your instructions are wonderful. Now I am teaching quilting class at First Stitches Pueblo and Canon City Colorado.
You can get my Viva Violetta pattern here. It is printed on demand so please allow an additional week or more for processing.