2021 Photo Critique Group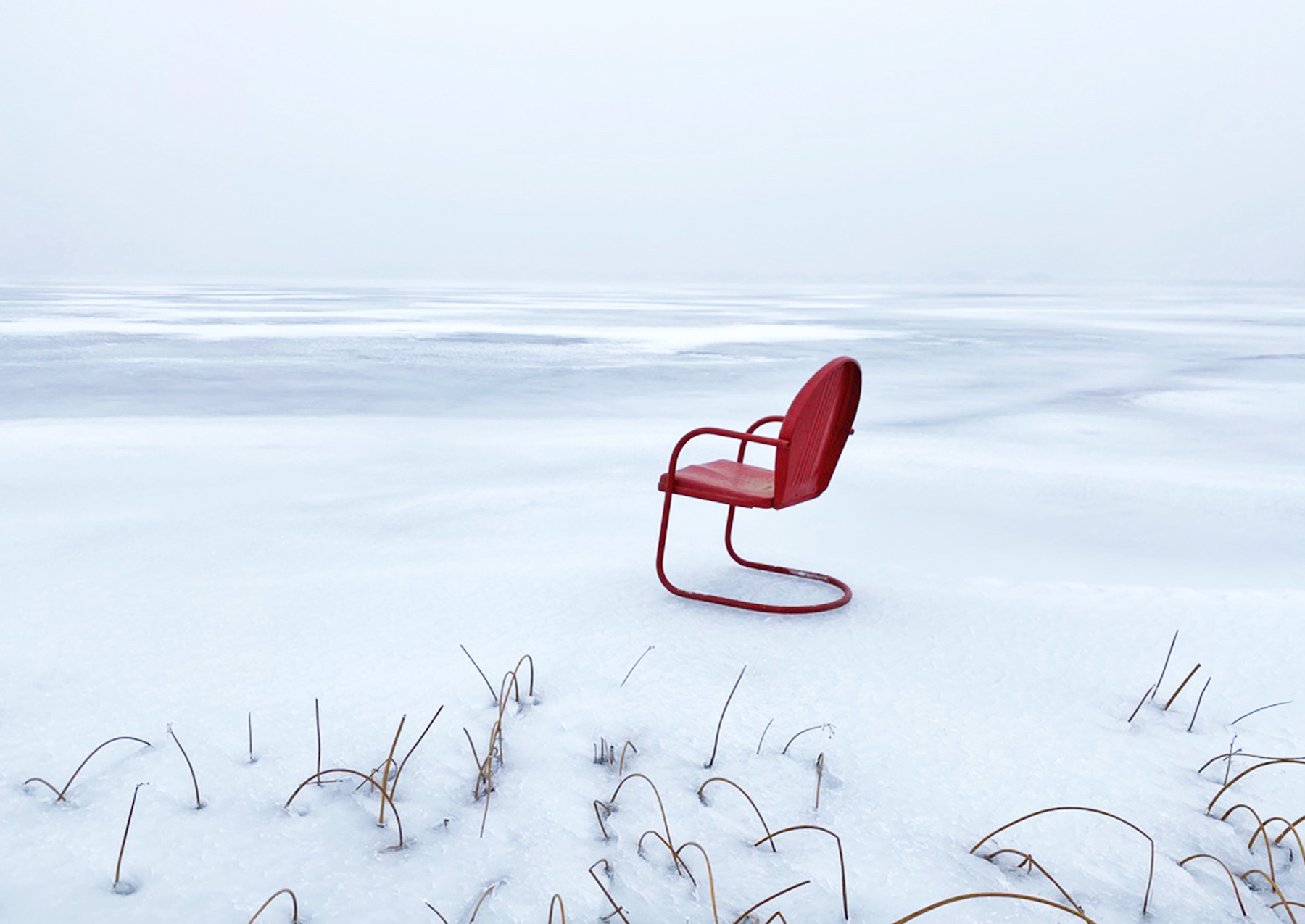 Challenge: Chair
Photo by Judith Baker Montano
Click to view larger image.
Judith says:
The weather changed rapidly on Sunday with cold overcast skies and a covering of fog. I had an idea about a lone chair set in unusual places and decided to scout out local area for my picture and got no further than the Town Lakes! I love mid-century Crossley Griffith chairs, because they remind me of my grandma Adeline Shantze and over the years, I have purchased a vintage assortment for the yard. I decided on the red chair and loaded it into the back of my car. I got up to the lakes around 3:00 p.m. and the fog was socked in. I must have been a sight, hiking from the road down to the iced over lake with a red metal chair slung over my shoulder, camera bag dangling off one elbow. Thank goodness for the weather and the Sunday afternoon football game, because no one was at the lake . I hauled the chair to the edge of the lake and then used it as a prop to walk out onto the ice. It reminded me of early days when I learned to ice skate using an old kitchen chair. Most Canadian kids can skate as soon as they can walk and it is quite common to see bundled up toddlers skating along, mostly on their ankles, just as happy as can be.
52 Week Challenge Class

Challenge: Long Depth
Photo by Barbara Chatelaine

Click to view larger image.

Barbara says:

This was bittersweet. I worked hard all week, and convinced myself to take a relaxing afternoon to take a photo of the Oaks and Oak Alley. Going to a plantation is a bittersweet experience to begin with. Then, you have to deal with ELEMENTS which has no concious or reasoning, and PEOPLE that do have concious and reasoning. These folks in the photo saw my set up, then decided to have a 20 minute CONVERSATION in my shot, all while looking at me. I sat there and waited. They walked away, then the cloud cover came, and I just felt so defeated. 

 

2021 Smart Phone Challenges

Challenge: Look Down
Photo by Mandella Edwards

Click to view larger image.

Mandella says:

Out for a walk we came across this frozen puddle with beautiful striations in the ice and a few hopeful blades of grass.
Ricky's Challenge Photos:

Challenge: Look Down
from the 2021 Smart Phone Challenges


Click to view larger image.

Ricky says:

I put my camera up against the bottom of the shelf in my pantry so it shot straight down on the cans below. I was pleasantly surprised with the repeated circles. This was edited in Prisma using one of the filters. I think it was called airplane.


 

 

Challenge: Chair
from the 2021 Photo Critique Group


Click to view larger image.

Ricky says:

This chair was hauled out of a alley next to a trash dumpster somewhere around 1980. In the 90s, my dad took it and refinished it and re-wove the seat. I liked the 'me and my shadow' feel for this. I went to Topaz 2 just to see what might help since is was mostly black and white and lifeless. I was surprised at this filter that made the nice purple and blue - so i went with it. The bit of wall texture added interest for me too.