This week's featured quilt, Rhapsody in Totem, was pieced by Julie Bodford and and quilted by award-winning quilter, Gina Boone. Read her story about the long process to finish the quilt.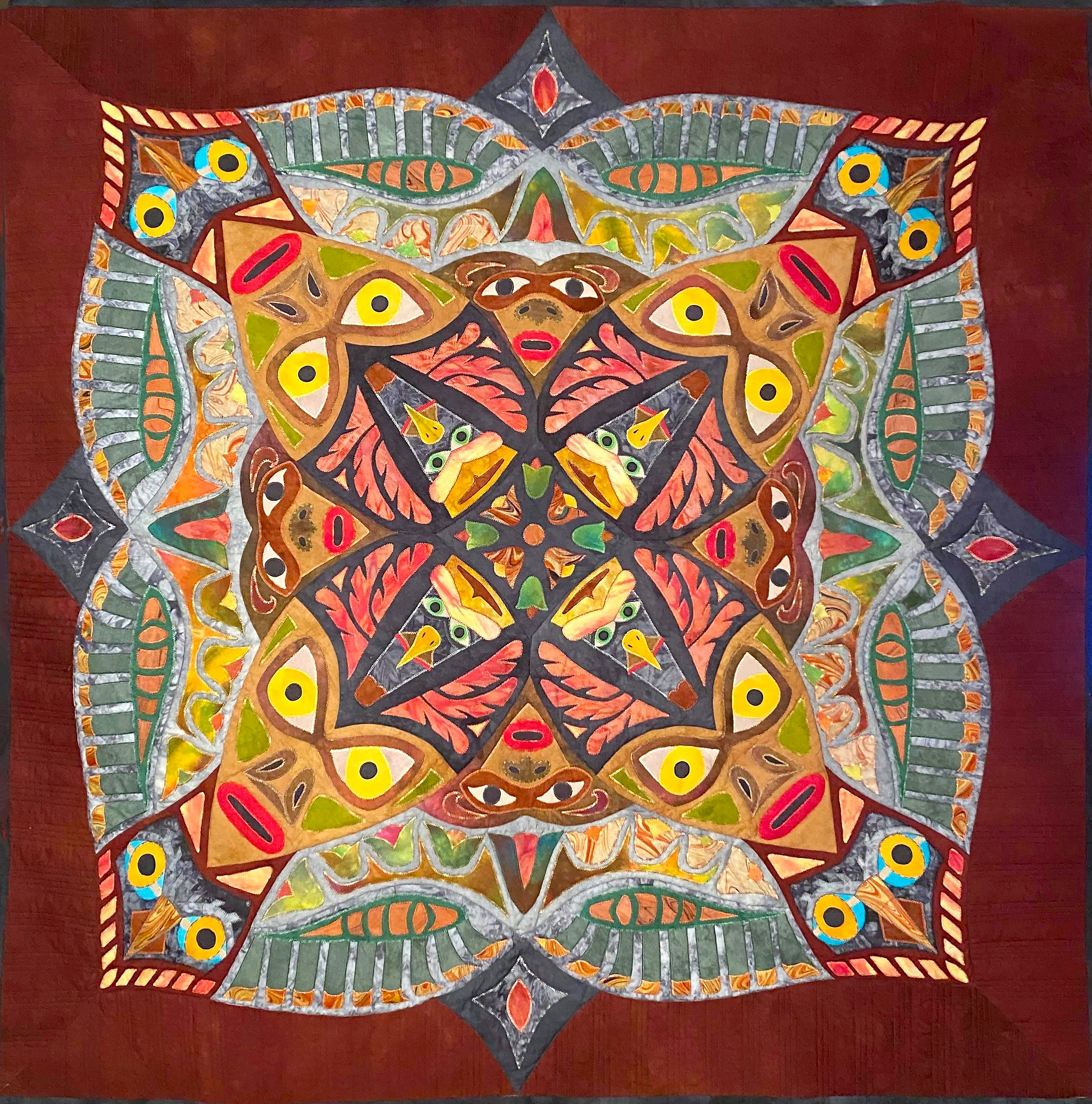 | | | |
| --- | --- | --- |
|   |   | |
Click to view quilt detail. 
Rhapsody in Totem by Julie Bodford
In 2013, I headed to La Veta, Colorado for my long-awaited retreat. I packed only two items: a box of freezer paper and No. 2 pencils - no fabric, no sewing machine, and no notions. I just wanted to create a design that might eventually become a quilt. At the start of the retreat, Ricky spent 'one on one' time with each of us to discuss our projects. I got very nervous the closer my turn came, because I had no real plan for how to spend my time at the retreat. I had just come with the desire to create, but with the belief that I had no creative talent. Ricky was encouraging and had assured me that I just need to destroy that belief with the desire to do so. So he left me with the assignment to think of things that inspire me. To help that along, he said to get out the freezer paper and draw anything that came to my mind.
My mind was a blank. Voices said, "Think! No, don't think - just draw!" I sat and just doodled for three and a half days, less than pleased with my creativity. I felt like Ricky, although encouraging, was less than impressed as well. What I now know is that he was patiently waiting for me to throw off the mental block that was hiding something creative.
Finally, a memorable vacation popped into my head. I recalled being mesmerized by the totem poles in the Pacific Northwest. I was now inspired to doodle what my mind and heart remembered. After buying more pencils, I couldn't doodle fast enough. I loved the mysteriousness of the totems and the people's connection to nature. With Ricky's encouragement, "Rhapsody in Totem" was drafted before the retreat ended. Although it took five more years to put the design to fabric, it is now complete and I am happy that I have an original quilt with my name on it.
The moral of this story:
When COVID-19 is behind us, get to a La Veta retreat. You never know what will be unleashed as you decompress and release your inner creativity!
Have you ever had a quilt that took you a long time to finish?  Share your story in the comments! We want to hear about it!
TRY THE JIGSAW PUZZLE
Choose your own difficulty. Click the 9-patch grid to change number of pieces. Click the circle arrow to make the puzzle pieces rotating instead of stable orientation. Also, there are tips under the "?" on the upper right of the puzzle. If you'd like a full screen version, click the button below. Have fun!