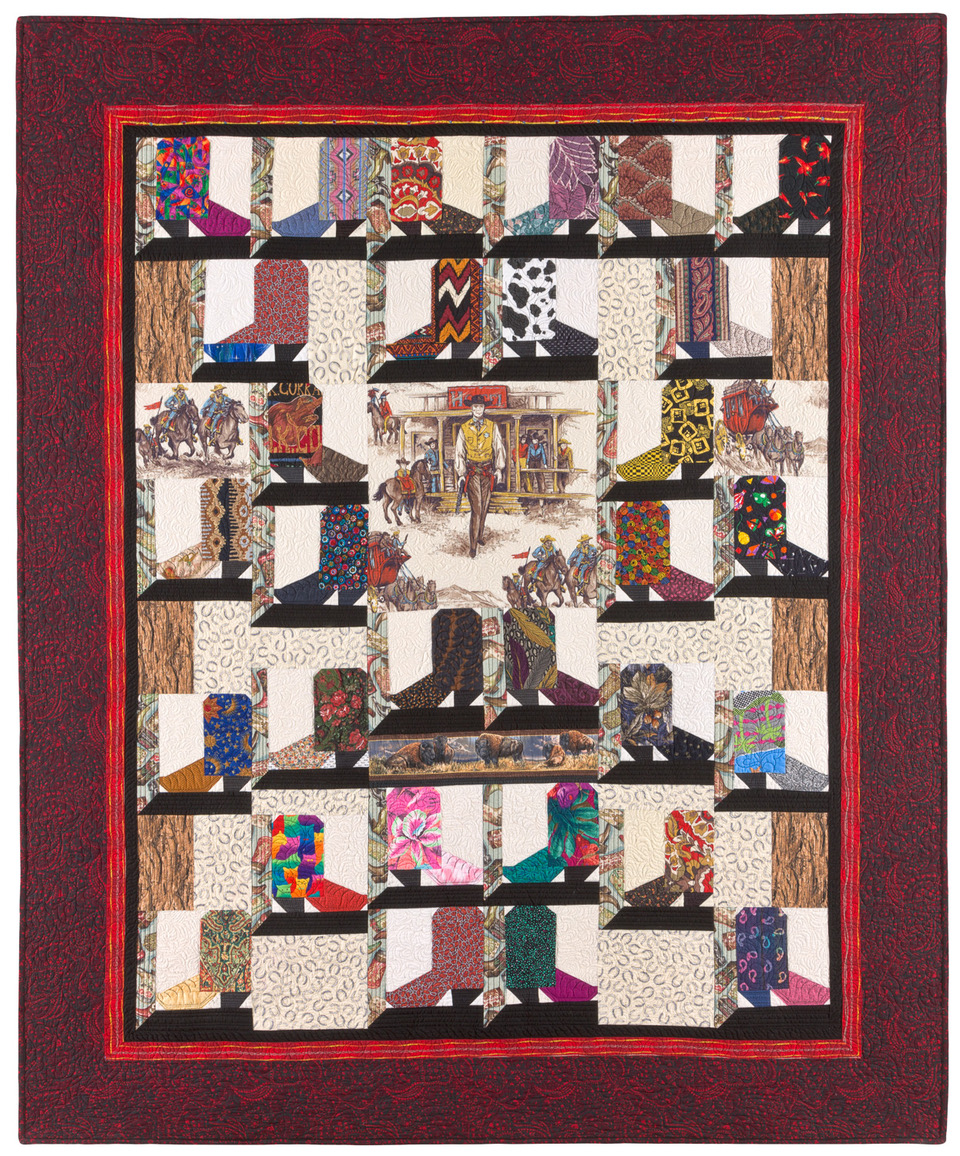 | | | |
| --- | --- | --- |
| | | |
Deadwood by Ricky Tims
Click any image for larger view.
In 1993, as an novice quilter with less that 2 years experience, I accepted the position as quilt show chairman for the Circle in the Square Quilt Guild in University City (St. Louis). As a thank you, the members created for me these cowboy boot blocks. They also provided a bit of the theme fabric so I could use it if necessary in creating the quilt. The boots sat in the UFO pile, tucked away (as we do). When i moved from St Louis to Denver, the box somehow got buried amidst other boxes and didn't opened. Then I made a move from Denver to La Veta, and boxes were moved, and stored, but left unopened.
I remember the day when I finally got around to sorting through many unopened boxes and finding these boot blocks was like Christmas morning! I was so excited and I set my mind to get this quilt made. The best thing to come from this is that all those years I was growing as a quilter and designer. Although it took about 21 years to finally join these blocks into a quilt, the result is much better because of my growth. 
You'll see sketches of the quilting designs I used on the boots, and the fun Alexander Henry bare-chested cowboys I used on the back. I should also add, the panel of the 'sheriff' and stage coaches was a piece that someone added. However, the top of the sheriff was at the bottom of the piece fabric and the legs of the sheriff were at the top. There was no full repetition of the design. So I cut the fabric and joined it to make the complete sheriff as the center focus of this quilt.
Here one final tip. I purposefully chose to put these boots into an attic window. As is the case of many group projects, none of the boots were the exact/correct size. By putting the attic window on two sides, I could trim THAT away if necessary rather then trimming any part of the boots - so that each block was the exact size and assembly would be clean and flat.
TRY THE JIGSAW PUZZLE
Choose your own difficulty. Click the 9-patch grid to change number of pieces. Click the circle arrow to make the puzzle pieces rotating instead of stable orientation. Also, there are tips under the "?" on the upper right of the puzzle. If you'd like a full screen version, click the button below. Have fun!

p>