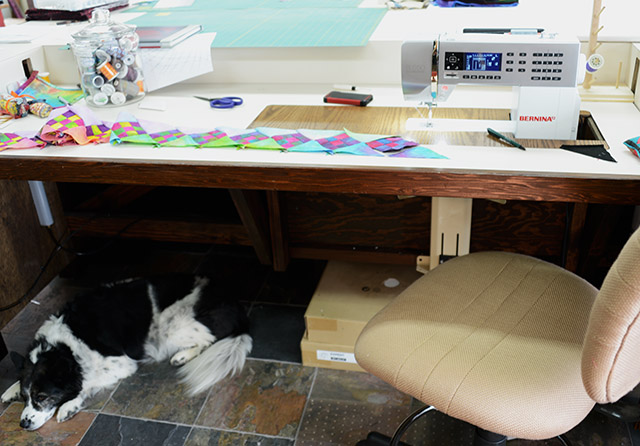 I'm so glad I have help when I'm stitching away. Yesterday Raisin found her safe cave under my sewing table.

The Streak of Lightning quilt I'm working on is one of those that are outside my comfort zone. I rarely create projects that require perfect 1/4" seams. The other thing that makes this quilt challenging is that the nine-patch blocks are on point which puts them on the bias. The setting triangles are cut as quarter-square triangles so the vertical edges are straight of grain. Nonetheless, the vertical columns are stretchy. None of this is uncommon for quilting and I'm confident the quilt will be just fine.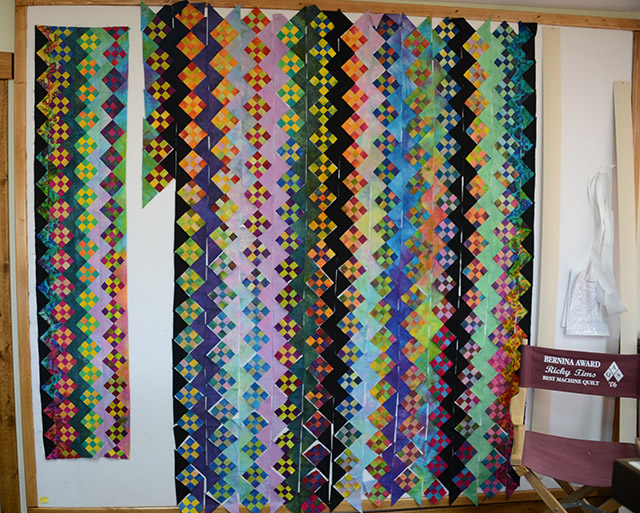 Look how much the seams take out of the design layout. The left side is sewn together. The wall was covered top to bottom, but with the seams sewn, the quilt is already about 14 inches shorter.





Yesterday I had a major setback and I'm sorry I didn't take photos of what happened. These images give you the idea of what happened. The columns are piece as shown at left. There is a setting triangle on each side of the nine-patch block set on point. While I was piecing one of the columns,  I accidentally inverted one unit (see red arrow) which led me to subsequently invert the next 8 or 9 before I realized what I had done. Because of the color layout, there was no simple fix. I had to unsew those units and get everything situated properly. 

I don't like unsewing!

Today I have to pack. Tomorrow morning we drive to Socorro, NM to do a two-day seminar. The weather already feels like fall and the trees are hinting that they are resisting changing colors.

I'm thinking I might square and bind Deadwood today - but it's just a thought at this point.

History 2 is teaching me How the Earth Was Made: Tsunami Science. Mother Nature sure has her dark side.

Speaking of nature. My western slope peaches are mmmmm-good. Try this: slice fresh peaches into a bowl. Pour some milk over them. Add a splash of vanilla latte coffee creamer. OMG! I'm just sayin'...