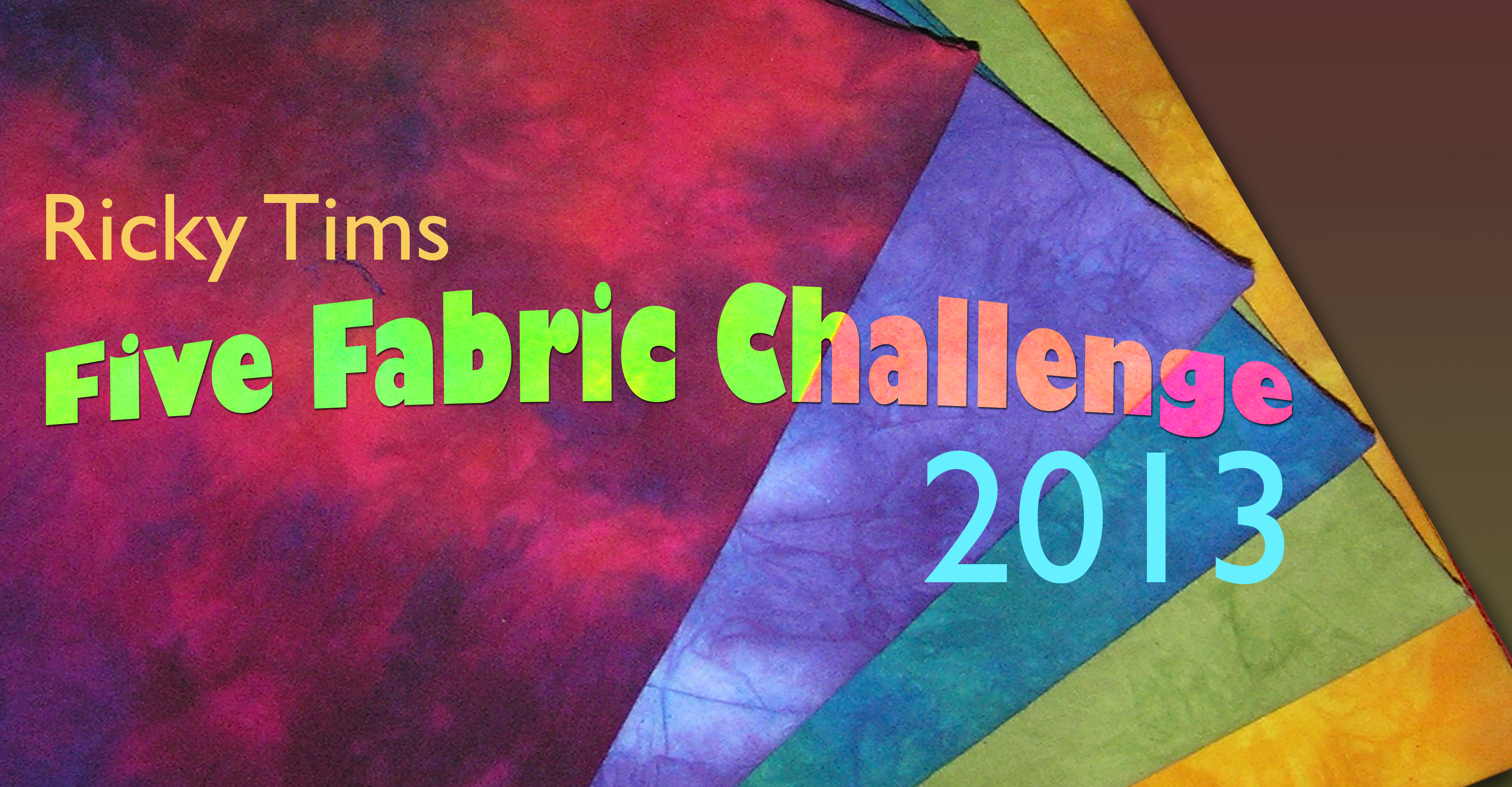 Challenge Rules

The premise for this challenge is to create a quilt (including binding or other edge finish, but not backing) that utilizes five yards of Ricky's hand-dyed fabrics. Additionally, the goal is for Ricky Tims Inc to kit the winning quilt using only five individual yards of fabric.

When creating your design, you are urged to work with under 3/4 yards of each fabric so that the kit fabrics allow for others to have extra fabric in the event of a mis-cut or mistake. 

Please consider wide-spread appeal, ease of patterning, and basic construction methods when creating your design.
1. Design must be totally original and all entries must be completely finished when submitted. The quilt must be three layers, front, batting, and a back layer.
2. Fabrics
a. Five fabrics must be used for the quilt top and binding - no more, no less. 
b. No more than one yard of any fabric can be used.
c. Backing may be any fabric - commercial or otherwise - and not included or counted in the fabrics used for the front design.
d. Fabrics can be from the Caveman series or the Rhapsody series of hand-dyes - or both.
e. Fabrics from another company or individual may not be used.
f. If you are unsure whether or not a fabric is a Ricky Tims Hand-dyed fabric, it would be advisable not to use it. Entries using fabrics other than Ricky Tims Original Hand-dyed Fabric will be disqualified.
3. No alteration to the fabric by any means is permitted. Over-dying, bleaching, painting, inking, or any other means of altering the original fabric is not allowed.
4. No embellishments in the way of beads, attachments, sequins, etc. are permitted.
5. Designs based on traditional blocks as well as contemporary art quilt designs are all eligible.
5. Construction techniques should be patchwork or applique or a combination of both.
6. Dimensions are as follows:
No wider than 44"
No longer than 60"
No smaller than 36" (Height of Width)
7. Submission will require listing the names of fabric colors used in your design - for a complete list of available fabrics and their names - click here.
8. Quilt must be made entirely by one person - from start to finish.
9. Quilts can be made by hand or machine or a combination of both.
Challenge Prizes
1st Prize - $500 cash*
2nd Prize - $250 shopping spree at the Ricky Tims Online Store
3rd Prize - $100 shopping spree at  the Ricky Tims Online Store
* Winner agrees to allow Ricky Tims Inc. the right in perpetuity to pattern and/or kit their design and make it available for sale through Ricky Tims Inc. and its affiliates, distributors, or other outlets. Winner retains copyright to their design. Winner's name will be listed as designer on written descriptions, patterns, and kits.
Purchasing Your Fabrics
You are welcome to use previously purchased Ricky Tims hand-dyed fabrics. If you do not have fabrics and you wish to participate in the challenge we urge you to utilize our new buy five hand-dyed fabric bundle for $100.00 and save $25.00 off regular retail price. To purchase fabric click here
Submission Information
You will find this information listed at www.rickytims.com under the EVENTS menu.
Cost for submitting is free.
Entries must be submitted online between March 15 and March 31, 2013.
You may enter as many times as you like, but each online submission is for one entry.
Entry requires mid-to-high quality digital photo images.
The entries will be judged by photo submission.
A well-photographed submission enables your quilt to receive the best evaluation.
Two images are required per submission: one flat full shot including borders and binding (or other edge finish treatment) and one flat detail shot.
Images must be standard jpeg images no larger than 8mb.

The submission button shown above will become active on March 1, 2013 and will become inactive at midnight, Pacific time, on March 31, 2013. Once the link is inactive, the submission deadline has passed.