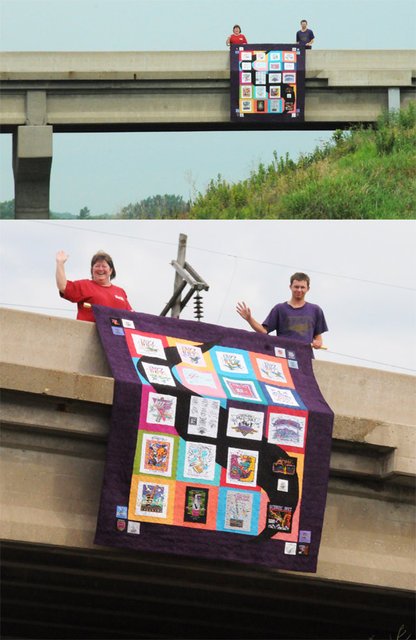 On our way to the Quad Cities Super Quilt Seminar I got a call from Shannon in my office back home that someone was hoping to meet us for a drive-by quilting at mile marker 121 in Iowa - ack - we had JUST passed that overpass not three minutes earlier and therefore it was a bust. That someone was Denise Dykstra from Prairie City, Iowa who had already registered to attend the seminar. We determined that indeed we would be passing her way on the way home and she was thrilled. When I called her (thirty minutes in advance) she was already at the overpass waving to drivers. She was NOT going to let this one slip by.

Denise says: When I first saw there was going to be a Ricky Tims Super Seminar in the Quad Cities, the first thing I thought was "I'm going to that!", and the second thing was "Wonder if I can manage a Drive-By Quilting?" Being Facebook-challenged, I didn't connect on the way east to Bettendorf, but was determined to catch him on the way back. I timed every exit as I drove home from the Super Seminar, so I would know if I could get to the interstate on time.

When I saw that Ricky and Justin were on their way, I sent a message on Facebook, woke my son, Will, from a video game-induced coma, and brought him along to help hold the quilt. We immediately hung it over the side of the overpass. Still about 30 miles away, Ricky called me on my cell phone. Then, you guessed it - a State Trooper drove up to check out the situation. I think I rambled on quite a bit about quilting and "drive-bys" and pictures and explained I'd only be there 20 minutes... He seemed relieved that I wasn't going to jump, and said (the understatement of the year) "Don't drop it."

About the quilt:
About 25 years ago, my sister, Kim, started a summer jazz festival in Breckenridge, CO called Genuine Jazz in July. In addition to local Colorado musicians, each year a Colorado artist created beautiful t-shirts.

When she sold the festival a few years ago, I started working on this quilt for her. The black "swoop" through the quilt is because Ricky says your eyes have to move around the quilt, so I designed that instead of having just t-shirt squares. I used Ricky's "gentle curve, no pins sewing" method to make all the curves (actually easier than matching some of the angles!). The quilter, Karen Gilson, also of Prairie City, IA, quilted the names of the 65 bands in the borders.

Next week, I will present the quilt to my sister on her "big" birthday (ends in a zero), at a huge family reunion. I think this will cover several years of birthday and Christmas presents, eh? Having this quilt be part of a drive-by is super, super special to me.

Thank you so much, Ricky and Justin!