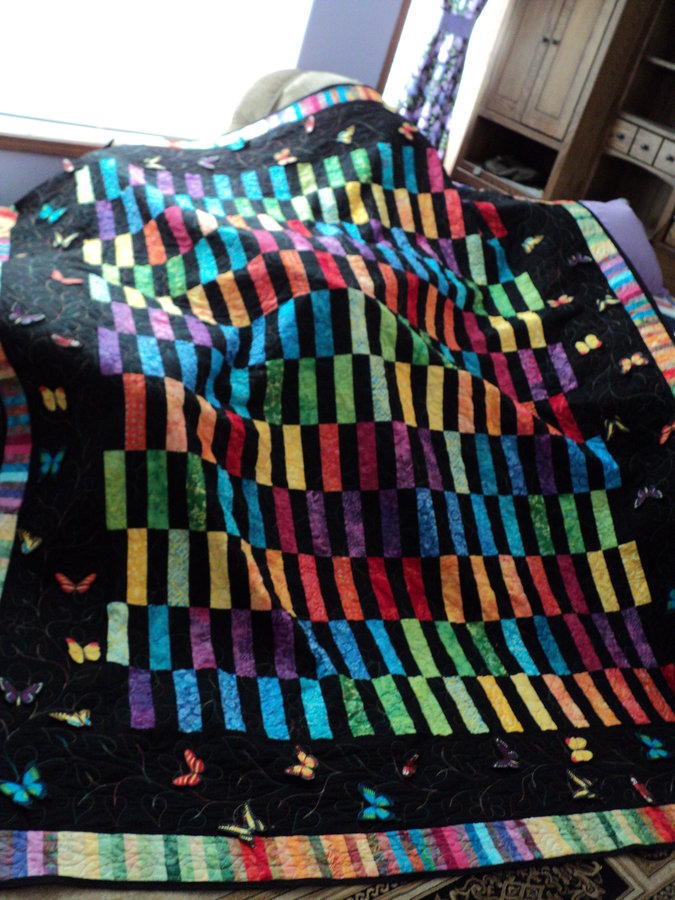 Butterfly Dreams by Connie Earin. Original design. 108" x 116"
Ricky Tims Inc. is happy to announce that Connie Earin of Columbia Falls, Montana has been selected as the 2011 Ponnie Brinkman Retreat Scholarship. recipient. Connie receives free tuition and $500 towards her retreat expenses at a quilt retreat in La Veta next year.
Connie was nominated by the Flathead Quilter's Guild. Sarah Robinson, president for Flathead Quilter's Guild states, "Connie completes projects in record time with great perfection. But the best part of this; she shares with the guild her new found knowledge and we all are inspired!"
Congratulations to Connie on being the second to receive this scholarship. Congratulations to all the Ponnie Brinkman Retreat Scholarship finalists.
Connie says about her quilt shown above:
I had so much fun piecing this quilt. I used jelly rolls and made 3-D butterflies that matched to the outer boarder. My first original design and my first use of 3-D. I have only been quilting for the last 2yrs. and thanks to my Mother who said, "Just take one class, if you don't like it, I will quit bugging you to try and become a quilter." Well, she created a whole new me with that first class!