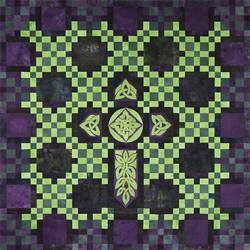 Ricky Tims is rolling out his new "Gaelic Blessing" quilt which features a variation on the Double Irish Chain pattern with a beautiful Celtic Cross done with minimal applique. This pseudo-traditional, easy-to-make quilt measures 63" x 63." Both the pattern and hand-dyed fabric kit are now available!.
Please take the poll below
and help us determine how many patters and kits we should prepare, this does not obligate you in any way.