Info: Your browser does not accept cookies. To put products into your cart and purchase them you need to enable cookies.

Previous Product
Next Product


View Full-Size Image



Christmas in a Small Town CD

Price per Each:

$16.99





Ask a question about this product

---

On Christmas In A Small Town, Ricky Tims plays the roles of producer, artist, arranger, composer, and songwriter. His distinctive musical style blends fresh, contemporary elements with sophisticated and classical components. He layers this mixture over a framework of familiarity that culminates in a recording project that is easily accessible and appreciated by a broad listening audience. The 12 song playlist includes The Holly and the Ivy, Pat-a-Pan, Do You Hear What I Hear?, and a new popular favorite, Ricky's Christmas in a Small Town. For more details, visit www.christmasinasmalltown. (2009)


1: Here We Come a Wassailing
2: Sugar Plum Fairy
3: The Holly and the Ivy
4: Personent Hodie / We Three Kings
5: Fum Fum Fum
6: The Huron Carol
7: Let All Mortal Flesh Keep Silence
8: Do You Hear
9: Pat a Pan
10: Northern Lights
11: Christmas in a Small Town
12: All is Well



Availability




In Stock:

599



---





more categories
Printed Music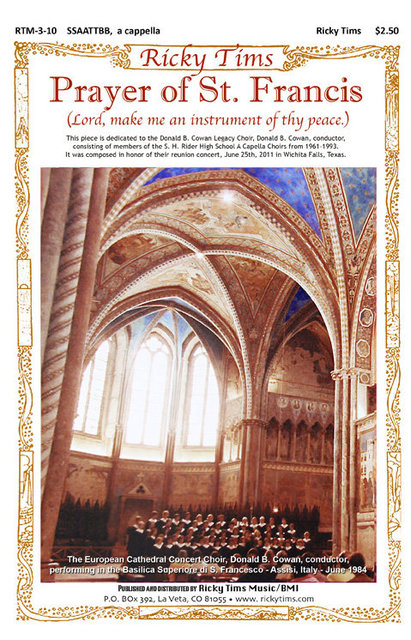 A musical piece dedicated to the Donald B. Cowan Legacy Choir, Donald B. Cowan, conductor, consisting of members of the S. H. Rider High School A Capella Choirs from 1961-1993. It was composed in honor of their reunion concert, June 25th, 2011 in Wichita Falls, TX.