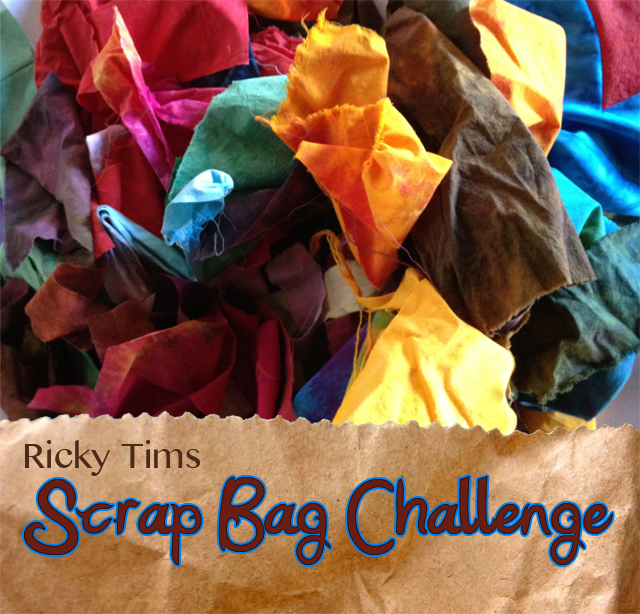 Call for Entries
Ricky Tims' Scrap Bag Challenge is a challenge designed for you to make something from nothing but scraps contained in a Ricky Tims Scrap Bag (plus maybe a bit of black or white if necessary). All entries must be made from fabric in our 15oz. of scraps or less. Finalists and winning entries will be chosen by Ricky Tims.

Scrap Bags in our online store are limited. Entries will be limited to only those individuals who have previously purchased a scrap bag or who purchase a scrap bag before they are gone. When the website says 'notify me' they are gone. Click here to purchase a scrap bag.
Prizes

All finalists will be featured on The Quilt Show Daily Blog and Ricky's I'm Just Sayin' Blog.
Winners and Finalists will be also be featured in Ricky's July 2012 Newsletter.
1st Prize $250 Shopping Spree at Ricky Tims Online Store
2nd Prize $150 shopping spree at Ricky Tims Online Store
3rd prize $50 shopping spree at Ricky Tims Online Store
Submission Rules
Quilts must be made ONLY from contents of the scrap bag except plain white or plain black may be added - no prints.

Over-dyeing or bleaching is not permitted.

Inking or painting IS acceptable.

Embellishments of any kind are acceptable.

Quilt top and edge finish must be only from scrap bag.

Backing may be any fabric.

Size is limited only by what can be made from contents of the scrap bag plus any black and white fabric added - no minimum size.

Entries must be completely finished (quilted and edge finished).

No submission limit.

Entries may be pictorial, abstract or traditional. Original designs only.


Entries must be submitted online.

Entry DEADLINE IS MIDNIGHT ON JUNE 25th, 2012.